By Gary Smith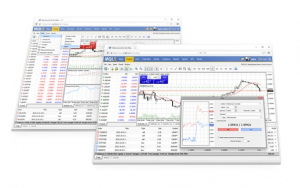 It first made an appearance back in 2005. Since that time Metatrader 4 (MT4) has grown to become the single most widely used automated electronic trading platform. So what exactly is it – and how can its features make a positive difference to your trading activity? We give you the lowdown…
How MT4 works
MT4 is a trading platform developed by a company called MetaQuotes. Even if you haven't heard of that particular company, if you explore some of the popular brokers out there (ETX Capital and Binary.com to name just two), you are likely to come across it.
Most often put to work in conjunction with forex trading, MT4 can also be used to trade commodities and indices via spread betting or CFDs and futures markets. It's used on licence by many brokers and essentially consists of an interface for placing and managing your trades. On top of this, the platform features a number of tools for putting automatic trading techniques into place – as well as for analysing prices and markets.
Whereas some brokers offer a basic MT4 experience, many others (IG, for instance), enhance it with a customised set of extra tools. So MT4 is rather like an Android smartphone; the basic feel of it is the same no matter what the model, albeit some manufacturers are more inclined than others to add their own touches to it.
Several brokers also offer MT4 as an alternative vehicle for trading alongside their proprietary platform. There's a sound commercial reason for this; because of its familiarity among traders, it's a good way of drawing new customers in.
From a trader's point of view, getting to know the platform can make sense if you can see yourself switching brokers. Its universality means that if you want to hop from one broker to another (to take advantage of better rates or wider trading options), assuming that both platforms offer MT4 trading, you can make the switch without facing a re-learning experience.
The MT4 platform
While MT4 is available to download direct from MetaQuotes, it can make more sense to use the download provided by the broker you are considering (or using). This generally means that any free enhancements provided by that broker are ready and waiting for you.
MT4 download
The MT4 download is available directly from www.metatrader4.com – but downloading a version directly from a broker may mean additional features and compatibility is already built in.
Leading Brokers with MT4 or MT5 Integration:
Executing a trade
This is a straightforward process. For a currency trade for instance, you go to the New Order button on the platform toolbar, select your currency pair, enter the size of your position, choose your buy and sell limits and stops – as well as your loss limits and profit targets.
Using Metatrader 4 automated trading – EA
An Expert Advisor (or "EA") is a program that you put to work on the trading platform to automatically take a certain action on your behalf if certain criteria are met. If you are using an off-the-shelf EA, you should always ensure it is from a trusted, reputable source. With MT4, it's easy to create your own EA or store ready-made programs and put an EA to work by basically dragging it onto your interface. Crucially, the platform also enables you to back-test an EA and put it to work in demo mode before you risk your capital to it.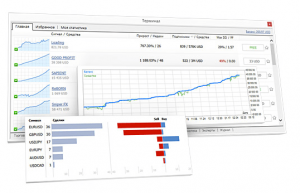 Making sense of MT4 indicators
From both the broker and trader's point of view, MT4 is highly customisable. Brokers are free to add their own indicators to the platform menu on top of what's there already.
Traders simply go to that menu, choose which indicators they wish to add to their own charts and how they want each indicator to be visualised in terms of line style and colour.
In short, MT4 enables traders to control what information they rely on – and how it is presented.
Why use Metatrader4? Other benefits:
Other reasons why MT4 has grown to become a market standard include the following…
A large community of users – If you have a technical query – or are looking for different perspectives on the best indicators to put to work in your trading activity, there's an international community of users out there to help you. Whether you are a novice trader – or perhaps a seasoned trader looking to put together your own automated trading aid, the MQL4 community site is worth visiting.
Charts you can rely on – The combined trading and charting capabilities of the platform mean that simultaneously trading while analysing the markets becomes a straightforward process. You can trust that the current prices you are looking at are bang up to date.
Stable, secure and mobile – Under the bonnet, MT4 is a relatively simple platform. It's not the type of system that will take its toll on whichever device you have it installed on. With simplicity comes stability; one of the reasons why it's favoured by brokers and traders alike is that it's unlikely to cut out, leaving you unable to react at key trading junctures. On top of the desktop versions, there are stable and secure variants for Android, iOS (mac) and Linux.
Compare MetaTrader 4 with rivals
"How comfortable am I with this particular platform?"
This is a key question you should be asking yourself as you scan the market. There's no shortage of brokers who have built their interface around MT4 – but it's not the only way of doing things.
It goes to show that by no means are all brokers "basically the same" in the way that information is presented.
So where next? Browse our up to date platform reviews – including a wide range of brokers who offer variants of the MT4 platform – to find the package that best meets your needs.