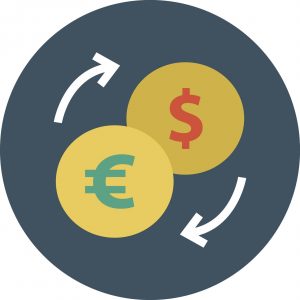 What is forex trading?
Forex trading (also 'Foreign exchange' or 'FX') is the buying and selling of one currency for another. Trades are placed based on the exchange rate listed on over the counter (OTC) or exchange traded platforms.
The market is the largest in the world, seeing over $5 trillion of trading each day . Forex can be traded five days a week, around the clock. There is no central exchange for currencies, so they are traded across the globe a various sources.
In each currency pair, the first currency listed is the 'base' currency, and the second the buying currency. So with EUR/USD the price quoted will be how many US dollars are required to purchase 1 Euro.
Almost all financial news, or global events, will influence forex prices. With markets available 24 hours a day and many brokers offering low commission, tight spreads and high leverage, forex trading has become extremely popular with retail investors. It remains however, high risk, particularly where leverage is involved.
How forex pairs work
Forex pairs are the starting point for forex trading. A 'pair' is the two currencies that are going to be traded. So a trader is going to buy one currency, using the other. So for example, with the GBP/USD pair. The trader will buy pounds, using the US dollar.
When prices are quoted, they are always the second currency, buying the first. So with EUR/GBP for example, the price quoted is the cost in pounds, to buy 1 Euro. Note however, that the decimal will move, making the price look a little strange to anyone used to exchanging currency for their holiday. In the EUR/GBP example, the rate for trading is currently 8454.8. For holiday makers heading to Europe, that equates to 84.5 pence buying 1 Euro.
The currency of the trading account does not matter, the broker will convert them as required in order to allow traders to buy or sell currencies. Retail forex trading is simply speculating on the movement of the exchange rates between forex pairs.
Which are the major forex pairs?
The major forex pairs all involve the US dollar;
EUR/USD
USD/JPY
GBP/USD
USD/CHF
Established pairs, traded in high volume and based on the US dollar, are known as the 'major' pairs. In addition to these more traditional forex pairs, there is fast becoming a much broader range of currencies to trade – these are referred to as 'minor' or 'exotic' pairs. Binary options brokers are now offering options on between 40 and 50 different currency pairs from all over the globe. Emerging markets have added a whole new element to Forex trading. These markets include regions like South America and Asia. Currencies often represent the market confidence in the entire economy of the area concerned. Given the huge range of factors that contribute to such economies, it is easy to see why prices fluctuate constantly.
Minor and exotic pairs do however, see lower levels of trading volume, which can impact volatility, but also availability at times.
What are exotic forex pairs?
Exotic pairs are normally so-called because they combine one major currency, with a second currency of an emerging or smaller market, for example;
TRY – Turkish lira
NOK – Norwegian Krone
SEK – Swedish Krone
HKD – Hong Kong dollare
Binary options Forex influences
So what influences the FX markets? Pretty much everything. Almost every piece of global news could have a conceivable impact on currency prices. For example, the collapse in the price of oil led to a similar fall in the value of the Russian rouble. An economy so heavily linked with oil will rise or fall with the value of that commodity. There are additional factors to consider of course, but the example is clear.
A more subtle example was the Indian rupee. New governorship at the Reserve Bank of India boosted investor confidence in the recovery plans set out for the Indian currency. That confidence was reflected in the resulting strong performance of the rupee. While India's currency benefited directly, other Asian currencies drifted upwards as well, with regional performance a factor which helped both the Philippine peso and Thai baht.
Another example is foreign policy. If a nation such as China were to broker a deal with Russia over gas, both currencies may benefit. If markets believed one trade partner has the better side of the deal then one currency may gain while another suffers. Traders may take a view on future foreign policy and invest accordingly. These examples are some of the more obvious and larger market drivers, but illustrate the fact that forex is a very complex market.
Volatility in the Forex markets
Uncertainty in markets usually leads to volatility. The global economy is without doubt uncertain right now, meaning there are plenty of opportunities for Forex traders. Binary options provide an opportunity to profit from the uncertainty. The range of forex currencies available to trade via binary options brokers has never been bigger and the right strategy, for the right currency, could prove very profitable. Our reviews highlight those brokers that focus on exchange rate binary options.
---
Binary Options vs Forex
The advantages of binary options.
Binary Option's main advantage over Trading Forex is the defined and limited loss that you can incur on any trade. When you buy a Binary Option you know at the start, what your maximum loss will be. It is defined by the cost of the option itself. You may also define your loss trading Forex by adding a Stop Loss order to your position, but two things can then come into play;
A volatile break in price against you where you were planning to stop your losses after, for example,  30 pips, but you end up being stopped after more than 30, due to market volatility.
The temptation to move your Stop Loss as the market gets close because you feel the momentum is not going to last. In the end this could cause you to lose much more than you had initially thought of risking in the trade.
In other words it can take away the need for disciplined risk management. Often traders end up trading emotionally which can eventually be disastrous. 

With Binary Options your maximum loss is always fixed and there are no risks of losing more.
This is also connected to the concept of volatility, with a Binary Option it doesn't really matter how the market moves as long as it ends up in the money at expiry, whereas having a Forex position can often see you take a loss due to the high volatility of the market – to then see the price move back in your favour.
Speed of Trading
Binary Options allow for very short expiry times. Expiries of just a few minutes are available, in fact even as little as a sixty second expiry. In forex it is very rare that the market will move enough for you to close your position in a few minutes let alone in just sixty seconds. Given that payouts for Binary Options range from 75% to 90% you can buy an option for let's say, £200 and receive a gain of between £150 and £180 after only a few minutes.
Distance to Target
With Forex trading you enter a position with the aim of the price level reaching a certain target which will inevitably be far away from the current price. Binary Options allow for the target price, the strike, to be at the money, creating higher chances of the Option being in the money at expiry. With the forex target price potentially far away from the current market price, a larger price move is required in order to profit to the same degree.
In Forex if the current market price for EUR/USD is 1.1200 you enter the trade with the idea of the market going up or down, let's say 20 pips, whereas in Binary Options the strike price will be the current market price 1.1200 and your option has to be above or below that price even by only 1 pip for you to cash in.
The Advantages of Forex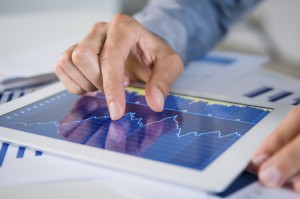 The biggest drawback when trading Binary Options is your required win rate. In Forex trading if you are applying risk/reward ratios correctly then your individual profits should usually be higher than your losses. This is because you should be entering each trade with a Target profit that is higher than the Stop Loss, for example 35 pips against 25. This means that even if you are right only 50% of the time you should be making some money, as your winning trades will earn more than your losing trades.
This concept doesn't work for Binary options and it's easy to see why. With payouts of around 75-90%, traders must win more than 50% of their trades in order to be profitable. With each individual trade, more funds are being risked, than will be won in the event of the option finishing in the money. In this scenario you have to be getting it right more than 50% of the time to return a profit overall.
Also, with binary trading there is no real secondary market. Once you have bought an option, you may want to exit that position before the expiry – you may be trying to minimise your loss or maximise your profit if you think the market is changing. Therefore you may find yourself looking to sell the option you bought. To do that you only have the choice of selling it at the price the broker, where you bought the option, displays to you.
While you could have various accounts with different Binary Option brokers and compare the prices of the option you want to buy before actually buying it, once you are in the trade, if you want to unwind it, that is close the trade before its actual expiry, you have no choice but to do so at the price the broker displays. In Forex of course the market is priced freely at any given moment and you know you will get the fair market price to exit your trade and not the broker's price.
To sum up the binary options vs Forex debate;
Which trading choice is the best i.e. most profitable market to trade in? Binary options or Forex? This depends greatly on your own level of commitment in terms of hours a day in front of a screen and discipline in risk management.
With Binary Options you may not need to be in front of a screen for many hours a day to follow the markets on a constant basis as may be necessary when trading Forex. You can take your position and wait for the outcome resting assured that your maximum liability is the cost of the option. You won't have to worry about maintaining your stop loss, it's fixed at the price you paid for the option and can't be changed.
One thing that is common to both markets is the analysis needed to make a trading decision. 
Whichever market you are going to trade in you will always be looking at Fundamentals and/or Technical Analysis. For both markets you will need to hone your analysis skills and create a profitable trading plan or strategy.