RaceOption is a state of the art broker that differentiates itself from its competitors with a modern online trading platform. This website also offers up to 90% pay-outs and 100% deposit bonuses. In other words, RaceOption is certainly a broker to consider, both for beginning and experienced traders.
With a fully online trading platform, everyday investors will finally be freed from endless downloads and updates. The RaceOption platform is also mobile-friendly, allowing users to trade anywhere, at any time…
RaceOption – Review
Key Facts:
Min Deposit : 250$
Payout : Up to 90%
Demo Account : Yes, but as a feature of a paid account
Regulated : No
Bonus : Up to 100% deposit bonus
Trading Account
RaceOption's modern trading platform is certainly one of the best features of the brand. In contrast with many of its competitors, RaceOption's trading platform does not require any software download.
There is nothing simpler than to trade binary options on the RaceOption online trading interface:
Create an account on the RaceOption website
Go to the trading tab and open the trading interface
Choose between trading CFD/FOREX and Binary Options
Select the type of instrument you want to trade (Currencies, Commodities, Cryptos and Stocks)
Click on one of the indicators presented in the list
You then only have to select an option type (Turbo, Intraday, Long-term), an expiry time and an amount.
Click on Call (for "up") or Put (for "down") and wait for the result!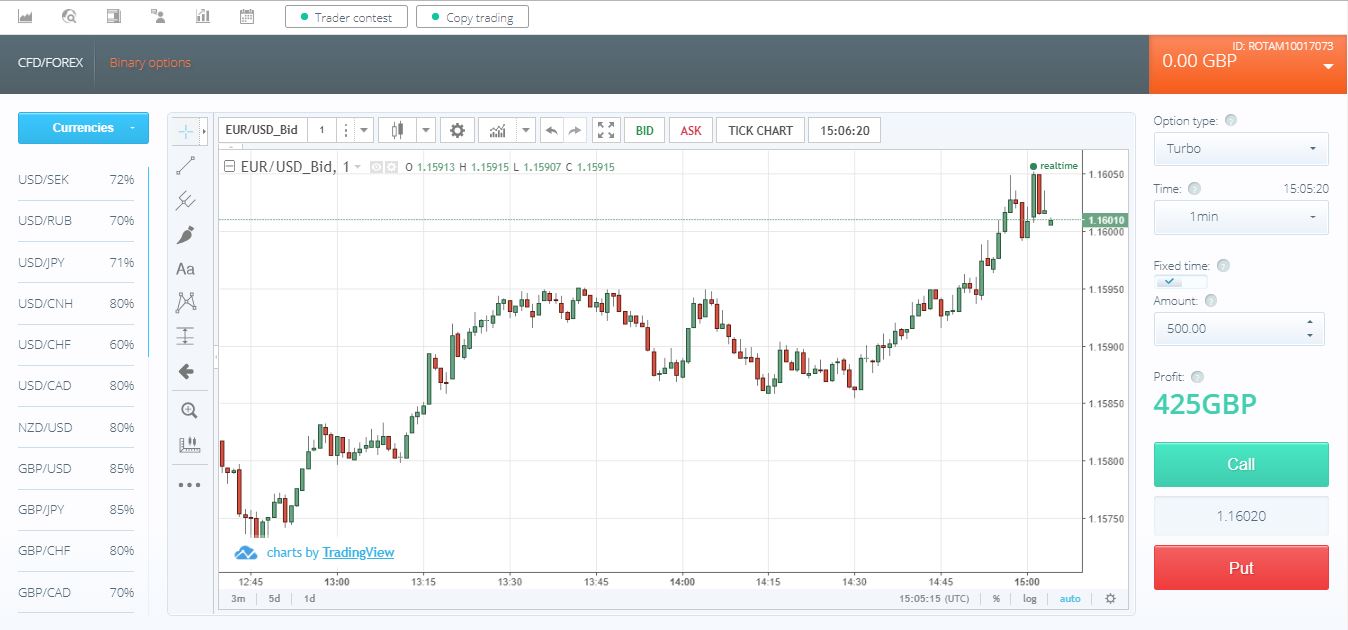 Trading Platform
The general design of the RaceOption platform is modern and easy to use. It is composed of a list of indicators on the left side, a central interactive graph and a trading tab on the right.
Snapshot of the RaceOption trading platform:
In the top left corner of the trading window, you will be able to choose between CFD/FOREX and binary options trading. Many traders will enjoy being able to switch from one to the other in a single click as the majority of brokers does not accept both.
By browsing the asset selection window, you will be able to choose from a large variety of securities including: commodities, stocks, cryptos, and most importantly, currencies in general. The indicator selected in the snapshot included in the article is the famous EUR/USD exchange rate.
The central graph is interactive and displays real time financial data. It can be easily toggled from tick chart to candles and vice versa. Thanks to the inclusion of smart guides, traders can analyse data quickly, with minute precision. The central graph also displays the real time proportion of traders trading a "call" or a "put" options, no better way to get a "feel" of the market.
The trading tab on the right is clear and intuitive. It is very easy to set all the parameters of a binary option before trading.
The trading platform efficiency is not limited to placing trades. As research is a key component of binary options trade, the website also provides users with economic and technical analysis, available in the toolbar of the trading platform. By analysing general trends, traders manage to better predict future outcomes and make more profits…
Assets And Trade Types
RaceOption offers a diversified range of options and assets. It provides all of the typical binary option types including Turbo, Intraday and Long Term. The main difference between these binary options types are the expiry time.
Turbo options expire in a few minutes, Intraday options expire within the day, and Long term options could have much longer expiry periods.
CFD/FOREX experts will also enjoy being able to trade these instruments, only with the click of a button. With CFDs, you will simply have to select an amount and place the order…
Account Types
RaceOption proposes three different account types:
Bronze: with a minimum deposit of 250£, you will receive a 20% deposit matching bonus along with a 24/7 live video chat, a copy trading tool and a demo account.
Silver: with a minimum deposit of 1000£, you will be eligible for a 50% deposit matching bonus, an individual account manager and even an investment master class.
Gold: with a minimum deposit of 3000£, you will be able to receive a 100% deposit matching bonus along with an integrated technical analysis feature.
Going for a gold account might seem like an expensive investment. Yet, with a 100% bonus and all the tools needed to succeed as a trader, it is certainly worth it! For more conservative players, the Bronze and Silver account will be a very decent alternative.
Note: the innovative copy trading tool provided with all three account types allows users to follow successful traders in their decisions.

Bonuses and Promotions
RaceOption's welcome bonuses range between 20% and 100% depending on the size of the initial deposit. These bonuses are also associated with the account types described above.
As shown on the RaceOption website, these bonuses are subject to conditions of use. For instance, investors having benefitted from these generous bonuses must achieve a turnover of 300% of the deposited amount before being able to withdraw funds. Traders must ensure the terms suit their trading style and does not encourage them to over trade.
RaceOption also organises weekly trading contests with prizes that could reach up to 20000$.
Deposit and Withdrawal
Deposit
RaceOption accepts deposits made through credit card (Visa, MasterCard and Maestro), Bitcoin and Litecoin, Altcoins, Neteller and Skrill. The funds deposited are usually available instantly. The minimum deposit amount is of 250£. This might seem like a lot, yet grants access to a Bronze trader account, associated with several advantages such as: a 24/7 live video chat, a demo account and a copy trading tool!
Withdrawal
RaceOption provides several withdrawal options including:
Credit cards : Visa, MasterCard
Qiwi Wallet
Skrill
OkPay
Perfect Money
Neteller
Out of all of these methods, the use of Bitcoins is heavily recommended by the RaceOption team. Bitcoin withdrawals are very fast and not subject to any commission.
The minimum withdrawal amount is of 50$. Withdrawals are usually processed in less than an hour. However, RaceOption will first have to verify your identification. This is done to ensure a trustworthy trading environment.
For accounts that have not received any bonus, users can withdraw funds as soon as they have reached a 100% turnover of the deposited amount. In other words, traders will be able to withdraw their profits only after trading the totality of their deposits.
Investors that have benefitted from RaceOption's generous bonus policy will be able to withdraw funds after having reached a 300% turnover of the deposited amount. The conditions of the RaceOption bonuses can be read on its website.
With a modern fully online trading platform and a generous bonus policy, RaceOption is certainly a broker worth considering!
Data on RaceOption
Payout : Up to 90%
Min Trade : 1$
Min Deposit : 250£
Bonus : up to 100% deposit bonus
Has Forex : Yes
Has Demo : Yes, but as a feature of a paid account
Has Mobile App : Very good mobile website