If you want to trade at any time and any location you need a binary options app on your mobile phone or tablet. When trading in very short term expiration periods, being able to make the trade at the right time is paramount. Brokers recognise this, and of course, they want their clients to be able to trade wherever, and whenever they choose to. So trading via a mobile app is a key offering for most binary options brokerages.
Top Trading Apps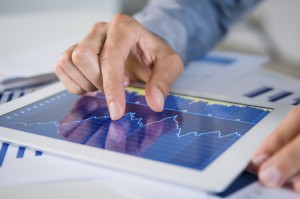 How to Trade with Apps
Most mobile applications provide a full range of trading options. So the majority of markets and expiry time scales will be available. Binary options brokers have also tried to ensure that the trading platforms remain simple and easy to use on mobile devices, just as they are online. Many firms offer 'one touch' trading which can work just as easily on a mobile device. This means trading anytime, anywhere is a real possibility for busy traders. Assuming the relevant markets are open of course.
The leading brokers all provide mobile apps. They are generally available via the usual sources;
Google Play store for android devices
iTunes App store
Direct download from the broker website

The applications are free to clients. Some brokers have taken more care and attention with their applications than others – the quality of each app is covered in our broker reviews. Many trading apps utilise the touch screen capabilities of the various handsets and tablets, and other have created charts and views purely for use on mobile devices.
Potential Drawbacks
One weakness which the majority of binary trading apps share is that the account management features are occasionally not available and some of the features provided on the full website are not available of the app. This is a common feature with mobile applications, as they need to be trimmed down versions of the full product in order to run effectively on tablets and mobile devices.
Some brokers do have some excellent features that set them apart from rivals – those that are able to make them available to mobile users as well, really offer the best of both worlds to their clients.
What Do The Best Applications Provide?
At a minimum, trading apps provide the ability to trade – anything less would be rather pointless. Some brokers however, have gone beyond the bare minimum and created tools and functions specifically for binary trading via a mobile platform. Some provide up to the minute financial news via the app. This can be very helpful.
There are also apps that provide up to date charts and pricing to mobile devices. The key here is to ensure the data is readable and usable and it is this attention to detail that separates some broker apps from others. Read our individual reviews to see in depth analysis of each broker's app.
The financial markets react immediately to news and events, so the right broker, with the right mobile application, can make a big difference to the profitability of any binary options trader.
Who Has the Highest Rated App?
…according to those users who have already downloaded it?
Almost every binary options broker now offers their trading platform via a mobile application. Brokers are well aware that traders want, and need, to trade anywhere, at anytime. The applications have been developed across every platform and device as demand for mobile trading grows – but the quality of the applications on offer does vary.
Some brokers have clearly spent a great deal of time, money and effort into developing a feature rich and intuitive application. One which not only allows trading via clear, easy to use screens – but also gives users the ability to maintain their account or even research future trades. Some have even made sure their applications are optimised for particular devices, or operating systems – making full use of technologies only available to certain makes and models.
Other brokers have created applications with very little ambition in mind, almost treating any mobile trading offering as a "tick in the box". While each mobile application is included in our full in-depth reviews, another way of judging the mobile trading facilities at each broker is to compare the user feedback each application has received – and see what existing users think of the mobile applications.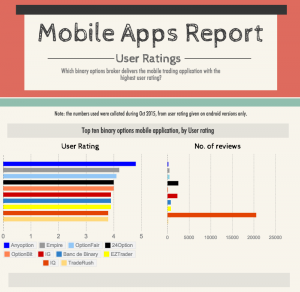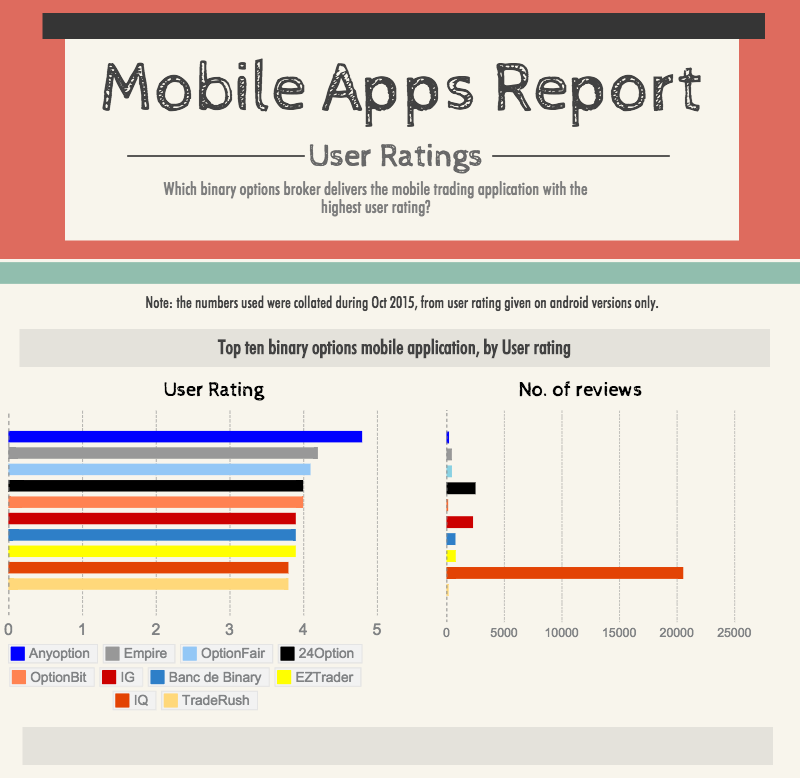 For our mobile app research, we have collated the user ratings awarded to the applications as quoted on the play store information pages – so our data is based on android users only. The information was gathered during October 2015.
In addition to listing the current rating, we have also illustrated the number of reviews the application received. We have presented the "top 10" in graphical form (click on the image to enlarge it) – but the raw numbers are presented below. We based the top 10 on the number of reviews, rather than the rating, as a low number of reviews could skew the ratings, and would not be as reliable as a larger amount of feedback.
Which mobile application is "best"?
On pure ratings, the Anyoption app comes out well on top. A rating of 4.8 is a terrific endorsement from users. It is also interesting to note the ratings across the board – 3.8 is the lowest score, suggesting that all of the trading applications have been relatively well received.
IQ Option's mobile app has received a huge number of reviews – almost 10 times the next largest. This possibly reflects the fact that the low minimum deposit requirements at IQ attract a large number of traders. Whatever the root cause, 20,000 reviews certainly provide a thorough spread of opinions, so their rating of 3.8 can be considered a very reliable reflection of the application.
Likewise, popular brands like 24Option and IG index also have well over 2,000 reviews each – again, more than enough to give their overall rating an air of reliability. At 4.0 and 3.9 respectively, both applications provide their large user base with a robust, functional application.
Some applications had not yet received enough reviews to give a robust user rating – we set our minimum at 150. We have however, included those applications in the table given below.
Here are the figures in full, listed in order of rating;
| | | |
| --- | --- | --- |
| Broker | Rating   | Reviews |
| AnyOption | 4.8 | 226 |
| EmpireOption | 4.2 | 470 |
| OptionFair | 4.1 | 479 |
| 24Option | 4.0 | 2528 |
| OptionBit | 4.0 | 150 |
| IG Index | 3.9 | 2312 |
| EZ Trader | 3.9 | 811 |
| IQ Option | 3.8 | 20571 |
| Traderush | 3.8 | 193 |
| Low review count   | Rating   | Reviews |
| TopOption | 4.1 | 139 |
| Cherry Trade | 3.7 | 130 |
| Binary.com | 3.7 | 133 |
---
Useful Resources:
Tradingapps.org provide further detailed information on Trading Apps.