Binary Options Explained
These type of options are traded on an asset or market. For example a stock price, commodity value or foreign exchange rate. The main difference between more traditional investment, and binaries, is the clear identification of risk and reward before the trade is made. An investor will know exactly how much is at risk, and crucially, also know the exact value of any potential returns. This is not the case with traditional investments, where the ultimate levels of profit or loss are not known until the trade is closed.
As with other investments, the trader must first decide if they think the value of the asset they are trading will rise or fall. The degree of the price change is not important. The trader is purely speculating on whether the price will be higher or lower than the current price, at a specific time in the future.
Example Binary Trade
So if a trader felt the price of oil would rise, he would take a 'high' option on oil (a "call"). If, when the option 'expires' (more on expiry times later) the price is higher, the trader wins. They would then receive the value of the trade back, plus 65% to 95%. If the price was lower at the point of expiry, the entire investment would be lost.
Every binary option is a Yes/No proposition. Although there are variations on the High/Low option, this type of investment will always have a black and white, Yes/No, binary outcome.
Every binary option is offered with an expiry time. This is the point at which the trade will be closed. So the price at expiry is the one that will decide whether a trade has won or lost. These expiry times can vary from just 30 seconds, to a full day, to even longer in some circumstances (up to a full year).
Generally however, these digital options are used for short term trading – usually under 30 minutes. Longer term expiries – and the element of fixed risk – does make them useful tools for hedging other investments.
So What is Binary Trading?
The meaning of 'binary trading' is the action of placing binary trades. Traders can invest in prices going up or down, or staying within a certain range or reaching a preset value. All of these are variations on a binary trade, and all of them represent examples of binary option trading.
When referring to "trading", the view is generally longer term. At this point the payout level becomes more important. As mentioned, these vary from around 65% to 95% – some more elaborate options can go even higher. These payouts will vary from broker to broker.
Payouts will also change dependant on the asset and the expiry time. Differences can be significant so traders looking to use binary options long term, need to shop around to find the best payout for the asset class (or classes) they intend to trade. It will make a huge difference in the long run.
Who Are Binaryoptions.co.uk?
At binaryoptions.co.uk, we provide a full suite of services and information to anyone looking to get involved in binary options trading. From educational material and tutorials, to advanced strategy and broker comparison.
These options offer a form of market speculation. Providing a method of profiting from price movement in the majority of major asset classes. It is a growing area of trading in the UK, and that is one of the reasons why we are aiming to provide the definitive guide to binary trading in the UK. Get in touch here.
Legitimate Investment
Although binary trading is a growing form of investment, it remains a relatively unknown product. Over time, this is likely to change. As digital options (as they are also known) offer a very simple investment, where risk and reward is very clear at the outset. Education, and tutorials can provide beginners with all they need to get started, see a range of the best books here.
A binary trade is a 'yes or no' outcome. For example, will a particular stock price rise in value? Or will an exchange rate finish lower? The up/down or yes/no outcome defines the 'binary' element. The only question beyond that is over what time scale the option is set for. It might be as short as 30 seconds, it might be a month, a year – or anywhere in between.
High Risk High Return Investment
So binaries offer a clear trading choice, but they are also high risk / high reward.
If the trader is correct, they will see a return on their investment of somewhere between 70% and 95%, paid as soon as the option period has settled – perhaps within just a few minutes. If the market moves against them, they lose their full investment. There is however, no leveraged exposure with a binary trade, so the risk and reward ratio is also simple to manage.
The structure gives binary trading it's strength. It is a tool that can be used to hedge other investments, or can be operated as an investment vehicle in it's own right. There are a wealth of trading strategies, and each caters for a specific investment need.
Are Binary Options Safe?
These fixed payout options have suffered from a poor reputation. This is generally as a result of dishonest and irresponsible marketing, more than an issue with the product itself. Binary options are high risk / high reward and will not suit every investor. With tighter regulation, and a better understanding by the wider public, these options can – and will – move into the financial mainstream. Which was where they originally developed.
Alternatively, watch this video tutorial of the IQ Options platform, which shows how to place a binary trade:
Risk Warning
The Financial Services provided by brokers on these pages carry a high level of risk, and can result in loss of funds. Only trade with money you can afford to lose.
Brokers And Reviews
A binary option can be used in a number of ways, and across a huge array of commodities and markets. This means finding the best broker, best account, or best trading platform, really depends on the needs of the individual investor.
For example, some brokers may focus on forex (foreign exchange) binaries. Others may focus on commodities options and only offer a handful of forex markets. Likewise, the returns (or payouts) may differ between asset classes, and with these varying by as much as 25%, it is easy to see why this might be important when selecting a trading account.
Investment limits may also point some investors either to, or away from, certain trading accounts. Some brokers offer minimum trades of just £1, while others cater for investors willing to invest £200,000 in a single trade. Again, when judging which binary trading platform is best, an investor will need to consider their own trading needs before deciding to open an account.
How to compare the best trading platforms
Our comparison table delivers a quick summary of the key points when comparing brokers. Our detailed reviews then allow potential new traders to assess some of the finer points that might confirm their decision. Here is a list of some of the key comparison points for brokers;
Payouts
Over the counter or exchange traded options
Minimum deposit
Minimum trade / Maximum trade
Trading platform
Asset lists
Expiry times available
Regulation (FCA, CySec, CFTC etc)
Range of options available
Bonus details
Complaints / Customer feedback
Tutorials and Educational Materials
Some points might be more important to certain traders than others. So finding the "best" will be an individual choice for each new client. Each broker review we write highlights all of the important facts a trader might want before making a decisions. Demo accounts are a good way to try a platform without any financial risks.
Demo Accounts
Some of the difficulty in making such a decision has been removed by the brokers. Most offer demo trading accounts. These allow new clients to try the services on offer. They can see if the range of markets and investment scales suit them and only proceed to a funded account when they are happy that the right trading account has been found.
Most brokers will offer a demo account. Those that do, have confidence in their trading platform, and are prepared to let new traders see it, and try it out, risk free. The review for each broker will include whether it offers a demo in the "Key Details" section.
Educational Materials
The majority of these account will work on both the website, and also the mobile app. So a trader can check both platforms and ensure they are happy before making a deposit. The very best demo accounts are not time restricted, and allow traders to 'top up' the balance if required. This type of account allows the user to not just trial the broker, but also use the demo account to try a new trading strategy, or even back test a strategy based on past financial data.
These demo accounts will often compliment any educational tools offered, as traders can follow guidance and try out trades, without risking real money.
Visit our list of demo trading accounts.
Trading Binaries
Here at binaryoptions.co.uk we also provide insight into trading strategies. We list the brokers and review their trading platform strengths and weaknesses. We highlight where demo trading accounts are available and offer a range of guides that cover the basics. In addition, we also cover more specialist subjects, like forex , technical analysis, trading signals and winning strategy.
Reviews
Our broker reviews are written after genuine trading on each platform. They include all aspects of each broker – good or bad. Any complaints we receive form part of the review. Included are the important comparison factors such as the payouts, trading types, and minimum deposit requirements. Uniquely, our reviews also include any complaints we have received about the brand, or problems traders have faced.
The credibility of the reviews is important to us. So they are checked and updated regularly and feedback we receive forms part of the overall rating. In order for binary trading to move into the financial mainstream, comparison services need to be open, honest and transparent – and that is what we try and deliver in our broker reviews.
All of this is designed to provide investors with the definitive guide to binary options trading in the UK!
Avoiding Scams
Binaries are not a scam. There are however, brokers and signal providers that are untrustworthy and operate scams.
It is important not to write off the concept of binary trading, purely based on dishonest brokers. These scams continue to drag down the image of this form of trading. Regulators are slowly starting to get to grips with these operations and the industry is being cleaned up. If you want to complain about an operator, please let us know via our Contact Us page.
Avoid scams with these simple checks:
"Make money online" or "Get rich quick" marketing. This is a huge red flag. Digital options are a high risk / high reward investment vehicle – they are not a get rich quick scheme and should not be sold as such. Operators making such claims are being dishonest.
Cold Calls. Reputable brokers will rarely make cold calls – they do not need to. Cold calls will generally be from untrustworthy brokers. Tread extremely carefully if proceeding with a company that got in contact this way. This could include email contact.
Bonus Terms and Conditions. If taking a bonus, read the terms and conditions. Some terms include tying in any initial deposit (as well as the bonus funds) until turnover requirements are met. The initial deposit is still the trader's money – honest brokers will not lay claim to it before any trading has actually been done. The better brokers will also offer the option of cancelling a bonus if it does not suit the trader. CySec, the leading regulator, has recently banned the use of deposit match bonuses as they believe it leads to clients 'over-trading'.
Account Managers. Be very wary of any account manager wishing to trade on behalf of clients. There is an obvious conflict of interest. These managers generally encourage traders to trade with figures way beyond their means. Traders should be very reluctant to let anyone trade on their behalf. One high profile broker recently closed down, due mainly to the damage done to it's reputation by this process of "upselling".
A trader must know their broker. Seems obvious – but some operators will 'funnel' clients to a brokers of their choosing, not the clients. If the marketing demands new clients sign up with a particular broker, or they pick the broker from a limited list – do not proceed. A trader should know the broker they are going to trade with!
Read more about avoiding scams here.
Being aware of the above methods should help those new to binary trading to avoid the less responsible brands. Improved regulation and more awareness will hopefully reduce these types of complaints. This will allow binaries to move into the financial mainstream – which is where they evolved from.
Regulation
Binary brokers are regulated via a number of bodies. CySec regulate the majority of brokers based in Cyprus and Israel.
In the UK however, a stronger layer of consumer protection is available if a broker is regulated by the Financial Conduct Authority (FCA). Some firms also register with the FCA – but this is not the same as regulation. This is an important distinction.
In the US the CFTC have only licensed two brokers to operate there – Nadex and CBOE. Some firms are also regulated by the Malta Gaming Authority, or the Isle of Man GSC. For an in depth look at the history of regulation within the binary industry, read our article: Binary Options regulation.
Benefits of using a regulated broker
Regulated brokers will generally offer greater levels of consumer confidence than unregulated firms. Regulated brands will be expected to retain trader funds in separate accounts, and not in company accounts. They must provide a dispute process for customers, and treat clients equitably and fairly. In addition, regulated firms can only market in a responsible way, and in regions where trading is permitted.
Responsible brokers welcome regulation as a way to increase levels of consumer trust. They will also recognise that in order for binaries to be accepted into the financial mainstream, the products must be regulated in the same way as comparable financial derivatives.
History
A brief history: The concept of a binary, or 'digital', option has existed for many years. They were however, initially only available to large scale investors – institutions, wealthy individuals and funds. The options were provided 'over the counter'. In 2008 however, the US Securities and Exchange Commission allowed these fixed return options to be traded over an exchange.
This allowed the Chicago Board Options Exchange (CBOE) and the American Stock Exchange to offer binary trading on certain underlying assets. Initially, the range of assets was limited, as were the choice of options. Nadex also began offering exchange traded options in the US as the market developed.
Demand For Digital Trades Grows
As popularity grew however, the traded assets moved beyond Forex and equities and the options types expanded as well. Rapid developments in software, and the globalisation of trading generally, led to a boom in these 'digital' options – and the expansion continues.
The barriers to entry for potential market makers or brokers are much lower in the binary sector. This, coupled with the boom in internet trading over a similar period, has left regulation lagging behind the industry.
Regulations in one area may not apply in another – and therefore internet based firms can move operations to the region that suits them best. This has however, led to a number of brokers operating outside of the law.
The growth of binaries however, is unlikely to slow. The simplicity, coupled with the clarity of risk, allows almost anyone to take a view on a particular asset but manage their risk much more easily than in any other form of trading.
Education
In order to learn binary options, traders new to the sector have a wealth of learning opportunities. Each trader is different, and will benefit from different methods of learning – some may prefer to read up on a subject thoroughly, while others will learn most from diving in and getting some hands on experience. In order to help as many traders as possible learn binary options, we have collated some of the most helpful educational resources here – all in once place. We have included a full range of educational tools, such as;
Seminars and demonstrations

eBooks / Manuals

Video Binary options tutorials

Hands on demo accounts

Knowledge base and FAQ pages
Learn Binary Trading Via Tutorials
Brokers are keen to give traders the confidence to start trading – and many offer some or all of the above for potential new clients to learn about binary options, generally absolutely free. Some tools are only made available once a trader has registered – this is purely so the broker has some contact details for things like trading seminars or web based demonstrations. Below, we highlight some of the best materials on offer – full in-depth reviews of each broker mentioned are available from either the 'Reviews' tab above, or from our broker comparison table.
Here are some of the educational and tutorial resources available to allow potential new traders to the learn binaries;
Seminars and Demonstrations
A great way to learn binary options is via an online demonstration or seminar.  Some brokers offer weekly seminars, some in a range of languages. These offer 'walk through' style demonstrations which can be really useful.
Other firms will also offer one on one training, but generally require a deposit in order to arrange these. These will initially follow a basic "How to" format, but can then move quickly on to more advanced subjects as required.
EBooks
Some traders will benefit from downloading an eBook tutorial, and learning about binary options at their own pace. In their Education centres, brokers often deliver a great 'manual' for traders looking to learn the basics. One note of caution here, is that each broker will focus on their own trading platform for some of the explanations and screen shots. This is an obvious trait for a lot of the resources listed here.
Brokers want new traders to use their services. The good news is that while the look and feel of some trading platforms will differ, the underlying functions are the same – so the knowledge is transferable reasonably easily.
These eBooks are a great starting point and available to anyone. The better brokers deliver a whole range of books, taking the trader through from beginner to advanced trader.
Videos
Video tutorials are by far the most popular method for brokers to demonstrate their platforms. Some brokers do make more effort than others though, and traders may also be presented with the same video at different brokers – only the voiceover has changed! There are however, some very good suites of videos available, and they are viewable without registering. We have embedded a video above from IQ Option which introduces their trading platform and binary trading, but they – and others – offer a range of videos, so this is merely a sample.
Knowledge base & FAQ
Almost all brokers will provide some level of education area or 'knowledge base', but the quality will vary. Our reviews cover the educational material available, but firms do constantly update them.
Brokers obviously want to encourage trading, so they make it very easy for traders to learn the basics. More advanced information then starts to become more hard to come by from brokers – but hopefully the strategy and technical analysis pages on this website assist.
Learn Binary Options via free tools
So there is a huge range of free educational material that will help potential traders to learn binary options. Traders can pick and choose the tools that suit them – and combine any number of eBooks, videos and demonstration accounts. "Education is never wasted" as the saying goes, so why not learn binary options?
Below are some of the topics we are asked about most often regarding binary trading. Hopefully these short paragraphs can provide an answer – but if not, there are a number of links to more in-depth articles that will explain each subject area in more detail.
Beginners Guide
Binary option trading is, put very simply, the trading of 'binary', or 'digital' options. These options pay a fixed return if they are successful (referred to as "in the money"), but the full investment is lost, should the binary trade lose. Almost every asset class can be traded via binaries, including foreign exchange (forex), commodities, such as oil and gold prices, stocks and indices. Binary trading then, is the act of buying or selling these options.
Basics
A binary option is a way for traders to speculate on an asset price. They payout a fixed return if correct, but the investment is lost if they are not. They could also be described as a fixed payout financial option.
This all or nothing structure is why the options are called 'binary'. They are sometimes referred to as digital options, or fixed return options for the same reason.
Binaries can be traded 'over-the-counter' or traded on an exchange. They are generally traded over a variety of expiry times. These can range from very short periods of time (as low as 30 seconds) up to a year. They are a high risk, high return investment vehicle and will not suit every investor.
How to place a binary trade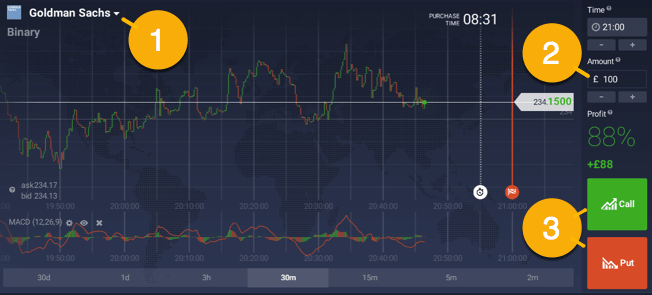 Steps to open a binary trade;
Identify the underlying asset to trade e.g. the price of gold, the Facebook share price or the GBP/USD exchange rate
Set the expiry time (The time the option will end), and decide on the size of the trade or investment
Decide if the value will rise or fall (Call or Put)
How Much Can Be Won?
The payout on a single trading option will depend on the underlying asset and the duration of the option. Generally, binary options pay out within a range of 75% to 95%. This percentage is made clear before the trade is made. Other than being higher or lower than the starting price, the closing price will not affect the magnitude of the payout. This is the significant difference between binary options trades and the majority of other investment vehicles.
As binary trading becomes more sophisticated, the amount that can be won is evolving too. Some brokers now offer trades that do depend on the size of any price movement. There are also trade types (covered below) where payouts can reach 400%, 500% or even 1000%.
What Types Of Binary Trade Are There?
By far the most common type of binary option is the simple up/down or high/low type. This is the simple prediction of what direction the price will take during the duration of the option. At the point the option expires, will the price have gone up or down?
A slight variation to the up/down trade is the above/below option. It follows exactly the same principals, but where an up/down option will start at the current value of an asset, the above/below value will be set somewhere at another value. All the same logic applies of the price rising or falling from that value, and where it will be at expiration – but the starting point will be somewhere above or below the actual value at that moment.
Touch / No Touch is a slightly more complicated scenario. Here, a value or price is set (sometimes by the investor themselves if their broker offers a feature such as 'Option builder'). If the real world price touches, or goes through that barrier, then the 'touch' option would payout. If the price never touches the barrier price, then 'No Touch' would payout and any 'touch' bets would lose.
In / Out, 'Range' or 'Boundary' trades require two barriers to be set. One will be higher, and the other lower. The binary option is then whether the price will stay 'in' (or between) these two boundaries. The 'out' option would be triggered, and therefore payout, if the price finishes outside of either or the barriers set.
Ladder Options. These operate in the same way as an 'above/below' option, but the payouts will vary based on how far away the target price is from the current value. There will be a range of levels, and different payouts for each. These are the "rungs" of the ladder. Payouts on ladder options can be as high as 1000% if the price movement required is large enough.
Pairs are a trade type where two related assets are matched against each other (e.g. Gold and Silver) and traders take a view on which asset will rise or fall most.
While the above are the most common option types available, there are others. The key theme they all share however, is that the outcome will be binary – Yes, or no.
Online Trading
Binaries are traded online. There are a range of brokers, all of whom will provide binary trading via dedicated websites and also across mobile devices via apps. Some will offer binaries "over the counter", others via an exchange – but they all follow the same process to open a trade.
These trading platforms will vary to a certain degree, but many will share common features. Most of these brokers will offer demo accounts, enabling potential new clients to try out their trading platform.
The steps above will apply at every single broker. As a trader gets more advanced, more layers of complexity can be added, but in essence, the attraction of a binary option is in the simplicity, and ease of managing risk.
In terms of strategy, and how to trade these type of options well – they are a unique investment. There are a number of strategies and trading styles. From technical analysis to fundamental research. Trader education will be key to any success in binary trading. Our articles will hopefully provide both education and up to date news. Allowing traders to improve their results month on month.
Put Options And Call Options
Put and Call options are simply the terms given to buying or selling an option. If a trader believes an asset will go up in value, they will open a call. If they expect the value to fall, they will place a put trade.
Some binary trading brokers will change their trading buttons every couple of seconds, from Call and Put, to Down and Up to avoid confusion. Others dispense with the terms put and call entirely. Again, most trading platforms will make it extremely clear which direction a trader is opening an option in.
Trading Strategy
Binary trading strategies will be an individual choice. In our strategy section, there are ideas that traders might want to explore. Technical analysis might be of use to some traders, alongside charts and price action research. Likewise money management might be of great value to others. Again, it is a learning process to find the best methods in each case. Our articles should help.
Are Binary Options Gambling?
It depends entirely on the attitude of the trader. If a trader applies no strategy or research, them any investment is likely to be reliant on good fortune. On the other hand, a trader making a well thought out trade will ensure they have done all they can to avoid relying on luck. Read our in-depth look at whether binary trading is gambling.
Signals
Signals are an alert, sent to traders. They are designed as a trading tool, helping traders to spot opportunities. They can be communicated via a range of methods – email, SMS or from a live signal website. Much of the irresponsible marketing associated with the scams highlighted earlier, is linked to signals. There are some very good providers out there too. However, in general, learning how to trade binaries is generally a safer route than using signals to compensate for a lack of trading knowledge.
Do signals work?
Sometimes, but rarely in isolation. Some providers will deliver a combination of education alongside signals and that represents a good mix. Traders must be able to fully assess a signal before they can judge the quality of them. So learning binary options is important. We explore these signals in more depth in our signals section. We also highlight some of the best providers.
Copy Trading
Copy trading is a growing sector of investing. It allows users to copy the trades of others. Those copying decide how much to invest, and whether to copy some or all of the trades that a particular trader opens.
The traders being copied also benefit, as the broker will often reward these clients through commission based on the trade volume they generate.
Copy trading (or 'social trading') is a useful function for those people without the time or knowledge to trade themselves. When copying however, time and effort spent finding the right traders to follow will pay dividends.
Robots and Auto Trading
Robots are auto trading software or algorithms that allow traders to automate their trading. Users have a choice of how to use these robots. Often, they are 'sold' as an automated signal service. These type of operations however, see a higher level of scams than other areas. Any form of automated trading carries a high level of risk, and a large amount of 'due diligence' is required when trying to find the right robot service.
An alternative approach is for traders to build their own robots. A growing number of brokers now offer traders the ability to put their own trading robot together, using simple tools. These often allow combinations of technical analysis settings, that then open trades when those criteria are met. It has made binary options robots available to everyone. Read more about how to use robots.
Binary Option trading guides:
Step by Step Guide to Binary Options trading
Select a broker – Use our comparison tables to find the best broker, and either deposit funds or open a demo account.
Select the asset or market to trade – Commodity, Stocks, Forex or Indices. The price of oil, or the Apple stock price, for example
Select the expiry time – Options can expire anywhere between 30 seconds up to a year.
Set the size of the trade – Remember 100% of the investment is at risk
Click Buy or Sell – Will the asset value rise or fall?
Check and confirm the trade – Most brokers show a confirmation screen for traders to ensure the details are correct.
The binary trade has been placed!
Advantages Of Binaries
Many of the advantages of using binaries are related or linked. Here we list some of the benefits to using this form of investment – not just for the retail investor, but also to the market makers or brokers:
Risk management
Managing risk when trading binaries is very simple. The amount of the trade, is the full amount that is at risk. This simplifies the risk not only for the trader, but for the broker too. This clarity is fundamentally different to most other forms of investment.
Both the trade size and the payout are known before an option is opened. With most other investments, neither figure is absolute. While traders might deploy a stop loss or other risk mitigation technique – nothing presents risk and reward as simply as a fixed payout option.
Administration Costs
The certainty of risk and reward provides a solid foundation for brokers to operate, and manage their overall position. This allows them to create processes to protect themselves further, by using a liquidity provider or hedging their own positions.
The real advantage however, is that the accurate levels of risk makes the expensive costs of clearing houses unnecessary. This cost, not to mention the associated regulatory pressure, is less of an issue for binary brokers.
This low barrier to entry is however, a double edged sword. Brokers have been able to setup and operate with little or no regulatory oversight – and this attracted some dubious operators.
Leverage
Leverage is not generally available with binary trading. This benefits the broker again, as it means all trades must be traded in full before they can be opened. In other words, no trader can default on a trade.
Where a trader operates with leverage, they are effectively trading on credit. Should things go wrong, there is a real risk of the broker not being paid.
It is also true however, that a lack of leverage also benefits traders. While some will argue that it restricts their ability to profit. Many retail investors can lose large sums unwittingly by using leverage.
Trader Choice
Layers of complexity can be added to the standard fixed payout option, that allow it to be used in a range of way. From a ladder option, to boundary trades or more advanced 'nesting' of options – binaries can be used in a huge variety of ways.
Where a trader wants to take a position on a certain underlying asset, a binary trade offers the greatest level of flexibility. They even provide a mechanism to speculate on a market remaining flat, or to take a view – not on the value itself – but the trade volume of the underlying asset.
Some of these benefits have been lost in the debate or simply swamped by a combination of misinformation, financial snobbery, and the dishonest practices of some operators. None of these factors should taint the vehicle itself, which remains a sound, high risk / high return financial product.