Traderush are no longer trading. Please review our Broker comparison list to find the best broker for you.
Traderush are one of the more established binary options brokers online.  The firm provide 'one touch' binary options, and these generally offer higher returns than traditional high/low options. Traderush also offer an options builder service which allows traders to put together the trade they want, and provides greater flexibility than other preset binary options. The Pro Trader tool is another extension of the firm's commitment to assist their clients to be as profitable as possible.
Traderush provide a good level of trading news, low minimum trades and a recently expanded support facility. In addition, they have also ensured that as much of this functionality as possible is available on their mobile platform, for smartphones, tablets and mobile devices. The trading platform is clear and easy to use – but could be updated to reflect some of the progress made in this regard at rival services.
Here are some of the key details about the Trade Rush brand;
Demo Account – No
Minimum Deposit – £200
Minimum trade – £10
Signals service – No
Bonus details – Up to 100% deposit match.
Mobile App – Yes, for Android and iOS.
Trading Platform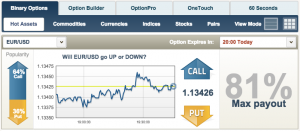 TradeRush offers an easy to use platform which allows clients to place trades rapidly.
The trading platform lists the option types across the top of the screen via tabs. Beneath those is the asset choice and view options. The view options allow users to control how many windows they can display at one time – meaning multiple assets can be traded at once if desired.
As a trader selects the type of option and the asset category to be traded, the price graph will update with the relevant information.
Traders confirm the specific asset via the drop down list on the left of the price graph – and then confirm the expiry time using the drop down list on the right. Again, amending each of these updates the data displayed in the graph.
On the far left of the graph is a "Popularity" arrow – this illustrates the current trader sentiment on that particular asset, displayed as a percentage. The graph itself tracks the recent price movements. On the right of the graph are the trading buttons. The Call and Put buttons are nice and clear, as is the potential payout percentage. Once a Call or Put has been selected, a confirmation window will appear, replacing the payout percentage. The confirmation screen is where a trader will confirm how much they want to invest and the strike price, expiry time and potential payout are also confirmed. Once satisfied everything is in order a trader need simply click the 'Apply' button and the trade will be opened.
It is a very clear and simple trading platform, but it does lack one or two of the features of rival brands. A simple uncluttered trading area is great – but it is useful to be able to use some of the 'nice to have' features every so often.
The Option Builder is a very useful option. It allows traders to 'build' an option to suit their needs. This becomes vital for more advanced traders that might want to "nest" two or three similar trades in order to manage risk and control payouts.
Trader Choice
TradeRush offers options on forex, commodities, selected stocks and indices. Their list of assets to trade is very long, and includes a huge range of listed companies and a comprehensive range of forex options. TradeRush excel in the choice they offer to traders.
Payout
TradeRush typically offer a maximum return of 81% on options. This rate can vary depending on the asset and expiry time. Payouts on the 60 second binaries are high, relative to other brokers, and this is a strength of the brand.
Other Features
In addition to low minimum trades and a strong range of markets, Traderush also offers its clients the following features and benefits:
Extensive news resources – Traderush offers daily news on all its markets, as well as a daily round-up.
Option Builder – A great tool for experienced traders to put together the type of trades they want.
Pro trader tool – Gives traders even greater flexibility, plus technical analysis and tools at their finger tips.