Top Option no longer offer Binaries. The firm is no longer accepting new accounts.
Return to the broker comparison table to search for an alternative broker.
Top Option are a fully regulated binary options broker with an established reputation in binary options trading. They offer a clear trading platform, a range of account types to suit all traders and a selection of extra features that sets them apart from other brokers. They also have a reputation for a good level of customer support, including a strong focus on security and rapid withdrawals.
They offer one of the lowest minimum deposits on the market, and have a low trade minimum amount too. So they represent a good option for traders new to binary options or those not looking to invest too much in each individual trade. Their additional features like 'flip', 'buy me out' or the 'Pro Option' are things that will interest more experienced traders as these tools provide the ability to add a few more points to their profits over time.
Here are the key Top Option details;
Demo Account – Yes (Deposit required)
Minimum Deposit – £100
Minimum trade – £5
Signals service – Yes
Bonus details – 100% deposit match.
Mobile App – Yes. Android and iOS catered for.
Trading Platform

The Top Option trading platform is one of the simplest in the sector. Is has been kept down to just the key fundamental details;
Select an asset
Select the level of investment
Confirm the expiry
Once the above are selected, the trading buttons are extremely clear. The Green up buttons provides the 'call' or 'high' option, while a 'Put' can be placed using the red down button. The strike price is displayed between the two trading buttons. Likewise, the payout percentage is clearly defined beneath the trading choices.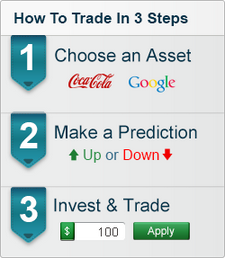 The main section of the trading area is devoted to the price chart, which reflects the recent price movement in the selected asset. The timeframes reflect the expiry times available.
Top Option make a point of promoting how simple trading with them is;
Trader Choice
Top Option provide over 180 assets for trading. These include currencies, stocks, commodities and indices. The range of options is extensive when compared to rival brokers, so traders with specific requirements for less frequently traded assets may find Top Option are a good fit.
In addition to a full asset list, Top Option also provide a choice of differing option types,
Classic Option – This is the traditional binary option, will an asset rise in value, or fall?
One Touch – Will the asset price 'touch' a preset value? (Either high or low). These options offer higher payouts when the preset values are set a significant distance from the strike price. They differ from the Touch-no-touch option because the option of 'no touch' is not available to trade. If the 'touch' is not made, the trade will lose.
Pro Option – Configure an option as required. Pair assets against each other, our use advanced features, such as doubling up, delaying exits or closing early.
Speed Master – Just like a 'classic' option, but with very short expiry times (60, 90 or 120 seconds).
Touch-no-touch – Will an asset price touch a preset price? his option can be traded in both directions, for example – 'Yes', the price will touch the target price, or 'No' the price will not touch the asset price. Useful in flat markets.
Payout
The trading payouts at Top Option are among the best. The highest payout is 85% which is good relative to other binary options brokers. One Touch binary options can also provide payouts at an even higher rate, so they are another avenue for quick, significant returns.
Withdrawal and Deposit options
Available deposit methods vary country by country but in the majority of cases, Top Option  accept credit card, debit card, wire transfer and e-wallet payments for deposits. The minimum opening deposit is £100 (the minimum trade is £5).
Withdrawal requests can be made via the 'My Account' tab. Top Option process withdrawals immediately, but banks may take 3 to 5 days to process the funds – particularly if there are currency conversions necessary. Joint accounts need requests from all parties before the funds will be released.
Top Option do not apply any charges  when a trader wants to withdraw funds.
Other features
Top Option offers some excellent features that are reasonably unique to them. Some brokers offer similar tools, but Top Option have the broadest range. These are tools that can help add a few points of profit when things are going well, and equally, shave some off the losses too:
Rollover – This allows a trader to extend the expiry time, and give the trade a little more time to finish on the right side of a trade.
Double Up – With this option, a trader can double their investment when things are going well.
Buy Me Out – Top Option gives the trader a chance to close the trade early – either to lock in profit or to cut losses.
Pro Option – This allows trader to tailor their own trade, set up a strategy and maximise their potential.
Bonuses – Account holders can get a 50% or 100% bonus with the right deposit.
Top Option also provide a great resource centre that offers some great methods for traders to improve their performance. From webinars, to videos and ebooks, Top Option do try and provide as much support to traders as possible. There are also one-on-one trading sessions available upon request.