OptionFair have ceased trading. The firm is no longer accepting new accounts.
OptionFair became unique in the world of binary options brokers in early 2015 when they became a publicly listed company. Their sister firm, TechFinancials Group, is now listed within the AIM market of London's Stock Exchange and OptionFair sit under the same umbrella. This is very significant for traders in the UK, as it means the operation – particularly the financing – is absolutely transparent, and regularly published to the City. This, in conjunction with CySec regulation and MiFID compliance, makes OptionFair one of the most trusted binary brands in the UK.
In addition, OptionFair's services have been designed with the following trader goals and values in mind:
High Payout: Great returns of up to 91% are possible on certain markets.
60-second Expiries: Offers traders the chance to make rapid profits with options expiring in only one-minute.
Fairness and Transparency: Traders can choose either side of a single option to ensure guaranteed exchanges in pricing with no spreads, fees or commissions.
Trading Choice: Traders are given the option to close out trades before the agreed expiry to limit risk or lock in profit.
Enjoyable Trading: Clear and intuitive platform creates a comfortable trading experience.
Secured, segregated funds: Trader account funds are in a segregated account separated from the business itself.
As the aims above illustrate, the firm aim to ensure traders can trade "safely, and reliably profit from trading a variety of assets". They focus of fairness, transparency, choice and an enjoyable trader experience.
Here are some of the other key details regarding OptionFair;
Demo Account – No
Minimum Deposit – £250
Minimum trade – £25
Signals service – Yes
Bonus details – Between 30% & 100%. Or 5 risk free trades.
Mobile App – Yes. Android and iOS devices catered for.
Trading Platform

OptionFair offer a bespoke platform (written by TechFinancial) that is quick and easy to use. It offers a simple route to any trade. The layout is reasonably unique, but works very well. Certain elements are also configurable.
A trader's first choice is the type of trade. These are listed to the left hand side of the trading platform, in a simple tab-style menu – the selected option is brought to the forefront. Below that are any further trade choices – for example, a 'High/Low' option offers the traditional high/low, but also the above/below option for larger payouts.
The asset filter is then the next choice to be made – the list below will default to the most popular trades, but can be filtered by asset category, e.g. stock, currencies, commodities or indices. The list will update automatically, and default to the next expiry time. Any of these assets can be selected, and once selected, the information displayed on the right of the trading area will update with the current information for that asset. The expiry time can be selected and amended as required and is accompanied by a 'countdown' as the expiry approaches.
The central and right hand side of the trading area is dedicated to the trading buttons, asset price graphs, and the trade information area. The trading area illustrates and clarifies the terms of any potential trade. So the 'High' or 'Low' buttons are central, with the strike price between the two. (This layout can change fractionally dependant on the option type selected).
The amount and payout are listed just to the right of the trading buttons. The potential payout will auto-populate once the amount field is completed. There is also an indicator of whether the trade will be 'closeable' once opened. To the right is the asset price graph. This can be expanded if required (via the small graph icon, in the top right of the graph area). There is also a trader choice bar which indicates the current sentiment on that particular asset.
Beneath the graph is the trades area. This will list all the open trades, and track how they are performing. From here it is also possible to edit the trades, using the OptionFair features, such as the 'Early closure' price or the latest tournament standings.
Trader Choice
OptionFair offers four types of trade;
High/Low – The traditional binary option – will an asset price finish higher or lower at expiry? This option also includes 'Above/Below' which offers larger payouts but also requires a bigger price movement to finish in the money. 'Above' and 'below' values are set away from the strike price, and as the name suggests, the asset price must finish above or below these values to finish in the money.
Short Term – As 'High/Low' but with very short expiry times, from 5 minutes down to just 30 seconds.
One Touch – Will the asset price 'touch' the preset level? Either side of the trade can be selected (Touch or No touch). OptionFair also offer Higher Yield Touch options, where the preset level is further from the strike price, but has payouts upwards of 200%.
Boundary – Boundary trades have two preset levels, one higher and one lower. This binary options is whether the asset price will finish within (In) those preset levels, or outside of them (Out).
The asset lists at OptionFair are very good, with a full range of the most popular indices, currencies, commodities and stock available. Other firms do provide a more comprehensive list, but only the most obscure assets are not available at OptionFair and this ensures payouts remain high as the liquidity justifies providing a market on the asset.
OptionFair Mobile App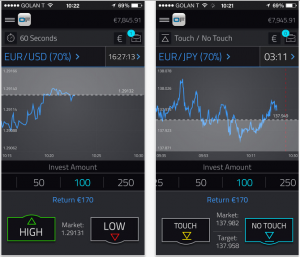 OptionFair deliver a free trading app, compatible for both android (version 4.0 and above) and iOS devices (Currently optimised for iPhone 5). The application has received positive feedback thus far and delivers a great tool for traders wanting to remain up to date on their trades while on a mobile device.
The trading layout is clear and user friendly – trading buttons are positioned sensibly, and the 'scrollable' amount ticker enables traders to enter trade amounts at a swipe. The full range of option types are available on the app, as are the full range of assets. Asset price graphs also work well in the mobile layout.
Payout
OptionFair typically offers a maximum return of 81% on options. This rate can vary depending on the asset and expiry time. Higher paying options are available, for example Above/Below binary options can pay around 200% to 300% should the asset price move sufficiently. The payouts at OptionFair are generally favourable compared to rival brokers.
Withdrawal and deposit options
An OptionFair account can be opened without the need for a deposit – but the minimum deposit of £250 must be paid before any trades can be placed.
OptionFair offer a broad range of deposit options. Some have specific deposit limits, so it is worth checking the details first;
Credit cards – £250 minimum deposit
Wire transfer – £500 minimum deposit
Western Union & MoneyGram – £1000 minimum deposit
eWallets – Skrill and Neteller have a £250 minimum deposit. Other eWallet brands are also taken at OptionFair, including iDeal and WebMoney, plus some region specific brands.
The maximum deposit is limited to £30,000 daily, and £150,000 monthly.
Withdrawals can be made at any time – and there is no minimum withdrawal amount. One withdrawal each month (every 31 days) is free, there is however, a £30 charge for subsequent withdrawals in the same month. Wire transfers may also incur a charge as a result of banking costs.
Withdrawals are generally processed within 5 days by OptionFair. Banks may then require further processing time. This is not the quickest withdrawal turnaround in the sector, and something OptionFair could work on. Withdrawals still in a 'pending' status can be cancelled – funds are immediately returned to the trading account. Traders can ensure withdrawals are not delayed any longer than necessary by ensuring the verification steps have been completed.
Other features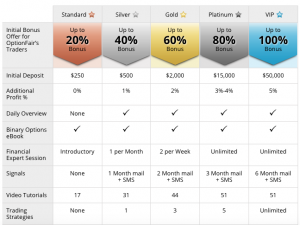 OptionFair offer its clients the following additional features and benefits:
Elite traders club – Enjoy cashback on trades of up to 1.5%, as well as other membership benefits including the Elie Traders Club Card.
Fair Signals – Receive alerts on the most profitable trades.
Standard, Silver, Gold, Platinum and VIP account types – Offering different levels of benefits, including reduced fees, increased payouts up to 5% and greater access for educational resource. Entry to each account type requires only a larger initial deposit – there are no fees.
Extensive Educational material
Tournament – Win monthly cash prizes just through trading. Weekly prizes that total over $100,000 awarded each month.