OptionBit have ceased trading. The firm is no longer accepting new accounts.
Optionbit are a binary options broker that try to deliver innovative developments to their traders in order to stay ahead in the binaries market. They offer shorter trades for higher returns and some industry leading support and education opportunities for both new and experienced traders.
Features unique to Optionbit include the Autotrader feature which can allow traders to take options consecutively, allowing them to profit from longer term trends in an automated way. The Algobit software is another bespoke product from Optionbit that can deliver binary options signals to traders. They have also recently released a range of tournaments where traders can pit their skills versus other traders for cash prizes.
Here are the key details regarding Option Bit;
Demo Account – Yes
Minimum Deposit – £200
Minimum trade – £10
Signals service – Yes
Bonus details – 100%.
Mobile App – Yes. Android and iOS catered for.
Trading Platform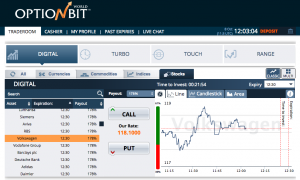 Optionbit operate a very intuitive trading platform – or 'traderoom'. Everything is laid out in a clear way, so whether a trader is completely new to binary options, or an experienced veteran, trading is simple.
The type of binary option required is selected via the menu bar along the top of the trading area (each type is covered in more detail in the 'Trading Choice' section below).
The next choice for traders is to select the asset they want to trade. This can be simplified by using the filters just below the option choice – "All" will show a huge list of all the available assets, while the remaining tabs (Currencies, Commodities, Indices and Stocks) will filter the assets to just those that fall into the relevant category. The actual list of assets is displayed to the left hand side. Traders can simply click on the desired asset and the rest of the trading area will update to reflect information for that asset. The list of assets can be scrolled up and down, and can also be re-ordered. Traders can list assets by name, by expiry time or by payout.
The traderoom default display shows one trading 'window'. Traders do however, have the ability to select the 'Multi' view which will allow them to trade more than one asset at a time.
Once an asset has been selected the trading area will display the information required to trade. At the top is a count down – this indicates the point at which a trade must have been placed, otherwise a trader will need to wait for a later expiry time.
In the centre of the screen are the trading buttons. These are clearly marked, and the strike price (labelled 'Our price') is displayed between the buttons. Just to the right is the trader sentiment bar, which illustrates in which direction those trading that asset currently think the price will head.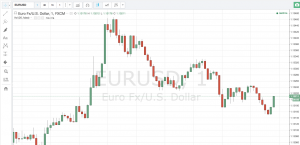 The last element of the trading platform is the price graph, just to the right of the trading buttons. These are fully configurable and are a lot more flexible than the charts found at rival brokers. Along the top are tabs which give the trader a choice of graph type – Line, Candlestick or Area. Beneath these tabs are the 'zoom' options which allow traders to take a look at the graph over a longer time frame. Option Bit also offer traders some 'Advanced Charts' options (pictured)- these can be found right at the bottom of the trading room screen. These open in a separate window (leaving traders free to switch easily back to the trading screen). They offer a huge amount of detail and technical analysis tools.
Underneath the trading area is the 'Open Trades' window. This will list all open trades, with the relevant details for each. It can also be used for viewing historical (closed) trades, or for checking progress in any tournaments a trader may have entered. Under this is a scrolling News ticker, which updates with relevant headlines throughout the day. Finally there is a menu for the additional functions Option Bit offer, including the Advanced Charts button.
It is a very comprehensive trading area, and one that receives much positive feedback from traders.
Trader Choice
Option Bit offer the following binary options;
Digital – The traditional High/Low binary.
Range – Whether an asset price will finish within, or outside of, preset 'high' and 'low' levels.
Touch – Whether a trade 'touches' a preset price. The option will finish 'in the money' as soon as the price is touched – there will generally be a 'High' touch value, and a 'Low' touch value. Payouts for these trades will often be larger than traditional High/Low options, due to the higher price move required in order to finish 'in the money'.
Turbo – The same as a 'digital' trade but over very short timescales (from 30 seconds up to 5 minutes).
This is a fairly 'complete' set of binary trading types, catering for all of the popular trading styles.
In terms of assets, Optionbit offer options on forex, commodities, and selected stocks and indices. The main strength of Optionbit tends to be currency trading. Away from Forex the firm offer the more popular commodities and indices but Forex is the deepest market range, followed by a good list of stocks. The range of trading types, combined with a strong asset list, mean traders have plenty of trading choice.
Mobile App
OptionBit offer a mobile app on both android (2.3 and above) and iOS (version 7.0 and later). The application has been developed thoughtfully – with the charts in particular having been given the same level of attention as on the full site.
The full range of binary option types and assets are available via the mobile app, as are a full suite of account management options. The application responds quickly and is well laid out – some time and effort has gone into the design, which is not always the case with some other mobile trading platforms. Reviews to date have come back positive, which backs up our feeling that Option Bit have put together a very useful mobile application that delivers what traders want, and need. (iOS screenshots pictured)
Payout
OptionBit typically offer a maximum return of 85% on options. This rate can vary depending on the asset and expiry time. The 'Touch' binary options will often pay slightly higher, due to the bigger price changes required in order to finish 'in the money'. Payouts of 220% for Touch options are normal. This is an area where Option Bit continue to improve, and progress in recent months has been good, they are now extremely competitive on payouts.
Withdrawal and deposit options
OptionBit offer a large range of deposit and withdrawal options. The main deposit method will be via debit or credit cards, but a full list of 'e-payment' options are also available, from Skrill and Neteller to WebMoney and Yandex. No fees are charged for deposits, but the minimum deposit is currently £200 with OptionBit.
Due to money laundering guidance, withdrawals can only be made once the trader has fully verified their account. This involves additional proof of identity steps including;
Recent utility bill as proof of address
Copy of front and back of credit card (if applicable)
ID (e.g. passport)
These steps are common across all brokers, but can be a source of frustration for traders who were not aware of them prior to needing to make a withdrawal. It is wise to complete these checks as soon as possible after opening an account – this minimises any delays and reduces the chances of any disputes. Withdrawals are one of the biggest causes of complaints among traders and delays in payments due to verification certainly contribute most to those problems – so the advice is to complete verification as soon

as possible.
One withdrawal a month is free of charge at Option Bit, additional withdrawals will incur a fee of $30 (£17). Withdrawals made via credit card can only be paid up to the same amount as has been deposited on that card – additional monies will need to be withdrawn using bank transfer.  WebMoney and Yanex deposits cannot be withdrawn via the same method, so any withdrawals also need to go via a bank. Option Bit explain all their deposit and withdrawal details clearly on their FAQ page (available under 'Help' at the foot of the page) – not all brokers make things as clear, so Option Bit are to be commended for making all the options obvious for potential traders.
Other features
OptionBit can provide the following features and benefits:
Algobit – Algobit locates newly forming trends, and signals the trader when the time is right to enter a trade. It is a product exclusive to Optionbit, and written in-house.
Option Bit Tools – Option bit provide the facility for traders to 'close', 'extend' and 'Autotrade'. These options give traders greater flexibility, and also the choice of automating some or all of their trading.
Mobile Platform – The Optionbit app allows trader to manage their account as well as manage their trades and portfolio on the go.
Email Alerts – Traders can setup email trading alerts direct to their inbox
Advanced Charts – The charting at Option Bit is now a real strength, with charts delivered by a third party that specialises in detailed, feature rich charts. Traders looking at using technical analysis to make their trading choices should certainly consider investigating the charting tools at Option Bit.
Option Bit represent a good "all round" binary options broker, delivering a good depth of trade types and assets, as well as some unique features such as the AlgoBit service and the advanced charts. The firm also operate tournaments, which are generally popular among traders and deliver a strong mobile application. So they are a broker that delivers across the board – especially now that the payouts are more competitive.