MarketsWorld is a licensed broker, launched in 2011.  The company is based in Great Britain and offers opportunities to trade a variety of assets. The firm offers high payouts of 90%, a demo account and a low initial deposit of just £20. Withdrawals are processed quickly and the firm market binary options responsibly. Marketsworld are not a scam.
The firm are regulated in the Isle of Man. They have always operated in an honest manner and are now looking to grow as the sector becomes better regulated and binaries enter the financial mainstream.
MarketsWorlds have ceased trading. The firm is no longer accepting new accounts.
Return to the broker comparison table to search for an alternative broker.
Marketsworld Review
Key Facts:
Min Deposit: £20
Payout: 90%
Demo Account: Yes
Regulated: Yes.
Bonus: £10 Free Trade / No Deposit Bonus / 100% Cash match up to £1000 (New traders can choose which offer to take).
Trading Platform
MarketsWorld offers traders all the major assets. These include major currency (forex) pairs, indices and commodities. The platform was recently improved and new features added.

On the left of the trading platform, are options to select the asset (or market), the expiry, trade amount and trade direction. The payout is also displayed below the trade size, both as a percentage, and a total potential payout. Marketsworld use 'Higher' and 'Lower' buttons – replacing the Call/Put terms that can confuse new traders.
The 'Buy' button will confirm the trade and it will appear in the open positions area.
The right of the platform shows the price chart. The scale defaults based on the expiry selected. The charts can be zoomed in or out, analytics can be added, and the whole thing enlarged. Improved charting was one of a number of recent upgrades to the platform.
Binary Account Information
There are few barriers to entry to MarketsWorld.  Minimum deposits are £20 and a minimum trade of £1. (With a maximum of £1,000). The firm delivers for novices traders, through to binary options veterans.  Accounts can be opened in a range of currencies including EUR, GBP or USD.
Opening an account is a simple process and the demo account, and the no deposit bonus are available without the need to deposit funds.
Withdrawals And Deposits
Minimum deposit is £20, and minimum trades are £1. The firm make binary options trading accessible for retail investors who do not want to invest huge sums initially.
Traders can fund their accounts and make withdrawals using all major bank debit cards, Visa and Mastercards, including Visa Electron, Visa Debit, Visa Purchase, Mastercard Debit, Maestro, Switch and Solo cards.
Marketsworld also accept a range of e-wallet providers such as Neteller and UKash.
Customer Service
Markets World has a dedicated customer service team who are available 24/6 by telephone, email, skype and live chat.  Due to the fast nature of the industry, the team are keen to hear from their customers so that they can improve the trading experience and evolve the environment to suit their clients.
Demo Account
Marketsworld offer a great, flexible demo account. It requires no deposit to open and login, and is not time restricted. The demo account provides the same access to the underlying assets, at the same prices as the live "real money" platform. This gives traders the opportunity to try the platform without the need to risk any money, or make any form of deposit.
The account is unlimited, with no time limits. If you run down the balance, it can be restored with a call or message to the support – perfect for trying out new strategies. It is always good to see a broker offer access to an unlimited demo – it shows the firm have faith in their trading platform, and are keen for new customers to try it. They are confident in their product, and know that users will eventually be pleased with what they see and open a real account.
If a trader does open a real money account by upgrading the demo account – the original demo account will be overwritten. However, a trader can simply open a second demo account if they want to try different strategies without risking real money. It is certainly one of the better sets of demo terms for any broker.
Trading App
The brand offer a high quality mobile trading app. The app has been designed for both android and iOS (iPhone and iPad). It delivers a similar trading experience to the full platform, and execution of trades is equally fast. Support is offered 24/7 on the application and the download is compact, needing just 24MB.
The app is a solid addition to the trading experience and traders who like to ensure they can trade while away from home will be kept happy. The same demo account can be operated from both the mobile app or a desktop, so traders can trial both without paying the minimum deposit.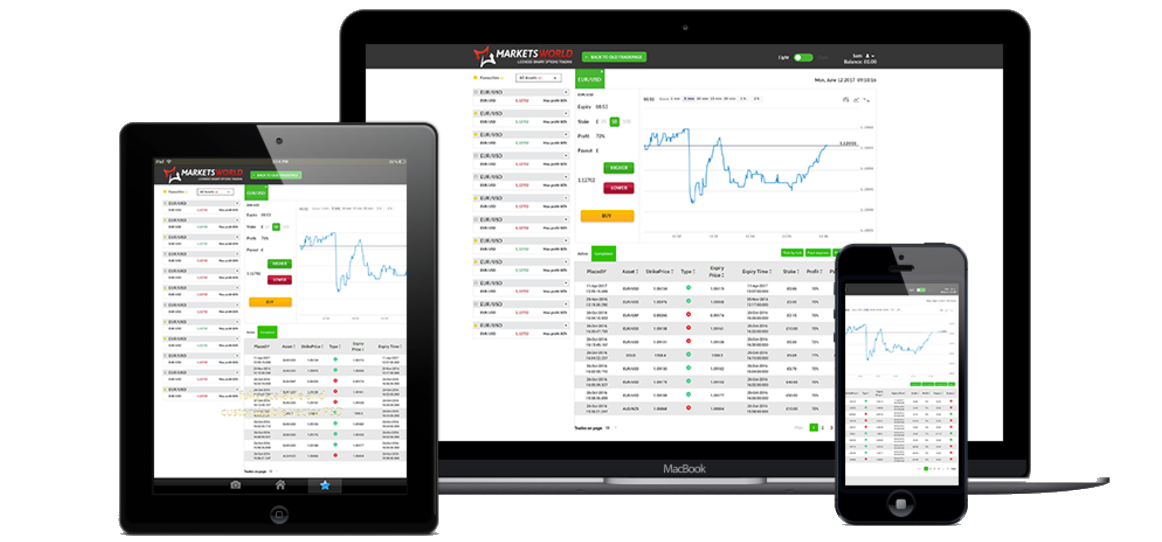 Is Marketsworld a Scam?
Marketsworld is one of the popular brokerages that have been launched in 2011. The firm is located in Great Britain and is regulated by the local financial authorities on the Isle of Man. The greatest attraction of this platform is its high payout amounting to 95% on your investments. It has a very wide asset spread consisting of currencies, stocks, indices, and also commodities. They include an excellent customer support that offers help on all issues to traders, along with an easy withdrawal service. In addition to this, Marketsworld also provides several payment gateways to provide maximum convenience and security to all your transactions.
Review Summary
In summary, MarketsWorld provides a  safe, reliable and regulated binary options platform for both novice and experienced traders – all based in the UK.  The potential 90% returns, easy deposit/withdrawal process and customer service puts them as a must visit for all binary option traders.