Grand Option have ceased trading. The firm is no longer accepting new accounts.
Grand Option are a growing online binary options broker. The firm operates under  the company name Rodeler Limited and has headquarters in Cyprus.  They are regulated by CySec and are keen to promote their service as a secure binary options broker.
They aim to offer a top level trading experience to both new and seasoned traders. Here are some of the key details for Grand Option;
Demo Account – No
Minimum Deposit – £250
Minimum trade – £25
Signals service – No
Bonus details – None.
Mobile App – Yes. Android and iOS catered for.
Trading Platform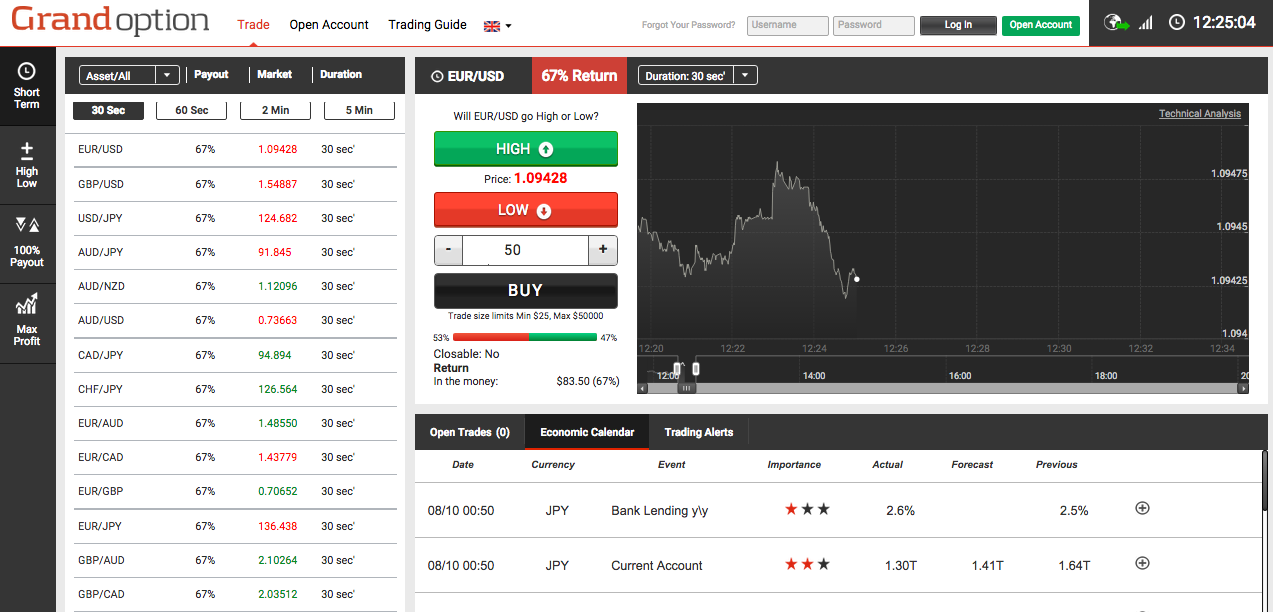 Grand Option offer a slightly different look and feel to rival brokers, and it works well.
Down the left hand side of the trading area are the option types – Grand Option have four, covered in more detail below. Once an option type is selected, traders need to choose the asset they wish to trade – this is as simple as highlighting the required row in the list of assets. The list can be filtered via the drop down category menu.
With 'Short term' trades, traders will also need to select an expiry time. In other option types, this is predefined.
Once an underlying asset is selected, the right hand side of the screen will update. The price graph will reflect the current choice, and the trading buttons and strike price will also update. The underlying asset, payout percentage and expiry are all listed at the top of the trading area, confirming details of the potential trade. The price graph can also be amended, by updating the time scales and there is also a technical analysis option, which opens a separate charting window with a number of different technical analysis tools ready to apply to the prices – this is a useful feature for more in depth technical research.
Beneath the trading buttons are the details of the potential trade, including the potential payout and whether the trade can be closed early. These will update as the amount field is altered. Once a trader selects a trade amount and direction, a confirmation window will appear, and assuming this is accepted, the trade will appear in the 'open trades' area beneath the price graph and trading buttons.
It is within the 'Open trades' area that one of the key features at Grand Option is made available. From this area, traders can set a stop loss or a take profit order and shape their own trading strategy. These features are unique to Grand Option and can make a big difference to traders profitability.
Trader Choice
Grand Option offer binary options on forex, commodities, selected stocks and indices. Currency pairs are a particular strength.
They offers four kinds of option:
High/Low – The basic binary option. Will the underlying asset rise in value, or fall?
Short term – The same as a basic binary option, but with very short expiry times – from 60 seconds to 2 minutes.
100% Payout – Certain underlying assets will be available via the '100% payout' screen. As the name suggests, the payouts for these are 100%, but only the most traded will be available, and only specific expiry times. Even so, the payouts make this a very popular option among traders, particularly of currencies.
Max profit – This option is rarely available, but offers payouts in excess of 100% on specific underlying assets at specific times.
Investors can lose all their capital trading binary options
Mobile App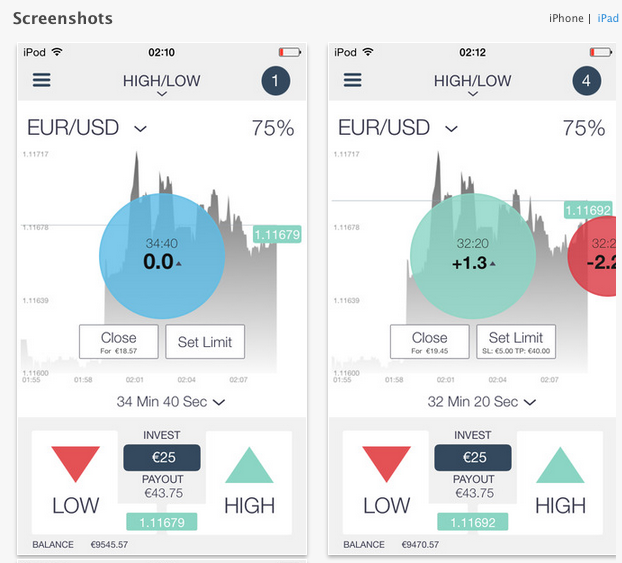 Grand Option offer a free mobile trading app and it functions very well and has a good layout. Available on both iOS (version 7.0 and later) and android (from version 4.0 and up). It has been given positive reviews on both platforms.
The trading area is clearly laid out – it does differ from the web version but is very intuitive and easily navigated. In addition to trading, the app also offers a list of open trades and historic trades – plus deposits, withdrawals and account maintenance. It is an excellent application for traders wanting to stay up to date on the move.
Payout
Grand Option returns can be up to 88% on their successful trades, and also offer the 100% payout trades. These rates do vary based on the underlying asset and expiry but rates are very good relative to other binary options brokers. But have in mind that investors can lose all their capital.
Withdrawal and deposit options
Grand Option offer a variety of deposit and withdrawal options. Both credit and debit cards are accepted, as are bank transfers.
Withdrawals are generally processed back to the source of the funds. Grand Option do require some form of valid ID, and proof of address before processing withdrawals, this is to comply with money laundering legislation. If funds were deposited via credit card, details for that card will also be required for the withdrawal. Withdrawal problems and complaints generally revolve around delays in this proof of identity process, so it is worth organising prior to requesting a withdrawal. This can avoid potential problems and ensure quick withdrawal times.
Superior and VIP account holders can enjoy regular free withdrawals, standard account holders receive their first withdrawal free. Remaining withdrawals may incur a percentage charge and this figure will depend on the method used – Moneybookers for example, will incur a 2% charge. Withdrawal requests can be made at any time. Withdrawals made via bank transfer incur a charge of $30 (Or currency equivalent).
Deposits can be made at any time also. The minimum deposit is £250 (funds can be deposited in USD. JPY and EUR too – but once set the currency that an account operates in cannot be changed). Bank transfers have a higher minimum deposit of £1000.
Other Features
Grand Option offers its clients the following features and benefits:
Extensive Currencies – Grand Option offer a large range of currency pairs.
Stop Loss and Take profit orders – Maximise profits, reduce losses.
Up to 100% Bonus – Terms and conditions apply.