Empire Option have not sought to register with the FCA to provide Binary options trading to UK residents. They are therefore not legally allowed to accept UK traders.
---
EmpireOption are an established binary options brand based in Montevideo, Uruguay. They are regulated domestically and have also lodged an application with CySec in Europe (and related MiFID compliance). They were voted Best Binary Options broker in 2013 by FX Magazine.
The firm are looking to expand their operation in Europe and bring their flexible and trader-tailored platform to a new market. There are a range of account types offered, that deliver a different set of benefits – each level offering more tools, such as reduced fees, a signals service, access to simulator accounts and quicker withdrawals. They range from the 'micro' account, up to the 'Empire VIP'. The account type is dictated by the size of the initial deposit.
Here are some of the key details about the EmpireOption brand;
Demo Account – Simulator available at a certain account level (Empire+ and upwards)
Minimum Deposit – £200
Minimum trade – £5
Signals service – Yes, from Empire+ Account level upwards
Bonus details – Exclusive 100%.
Mobile App – Yes. Android and iOS catered for.
Trading Platform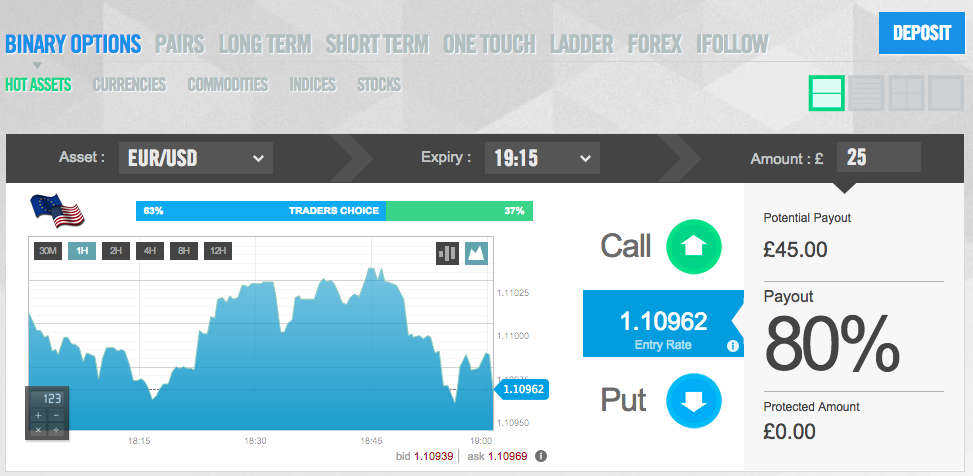 EmpireOption provide a good looking trading platform, that delivers all-round, but also has one or two 'extras' that traders might find useful. The layout can be amended to display multiple trading windows, but defaults to two large windows initially. It can be amended to a table style, with each asset displayed in a row, or a 'multiple' view which displays up to sixteen trading boxes. Lastly, there is a view with just one large asset window – nice and simple, but lots of detail. Each view will suit a different trading style, but the flexibility is good to have.
Using the trading window is a similar experience to rival broker platforms. The type of option is the first decision. EmpireOption have a superb choice of trade types (seven, plus the iFollow feature) – each is covered in more detail below. Traders are then able to select the asset they are interested in. The asset lists available at EmpireOption are comprehensive with indices a particular strength. First traders select a category of asset – the trading area defaults to the 'hot assets' being traded most, but commodities, stocks, currencies and indices can all be selected. The drop down list within the actual trading area can then be used to select the specific asset.
Alongside the asset choice, is the expiry time and trade amount (the minimum trade with Empire is just £5). Again, both can be amended as desired. Beneath these is the price graph for the asset selected. It can be toggled between the default view and a candlestick, and the time frame can also be changed as needed. Along the top is a 'trader sentiment' bar, illustrating the direction that traders are currently leaning.
To the right of the price graph are the trading buttons. The potential payout is displayed just below the amount and will update automatically if that amount field is amended. Beneath that is the payout percentage – made very clear. Below is the protected amount, and this will display where it is applicable. Then the trading buttons are displayed. As with everything else, they are clearly identified, the Call and Put buttons are adjacent to the relevant arrows, and the strike price is positioned between them – this changes colour to reflect the most recent price change, up or down.
Selecting either trade button will bring up the 'trade approval' window, which is an opportunity for the trader to double check details of the trade. Confirming the approval will trigger the trade and it will then appear in the 'Open positions' window of the trading area.
The 'Open Positions / Expired Positions' window sits beneath the trading windows and allows traders to track all of their open and closed trades. These are grouped into the trade types with all the relevant details for each trade listed below. It is in this area that traders can use additional tools such as 'double up' to increase investment in the option, or 'Rollover' to extend a trade. Traders can also 'Sell' their position from here or open up the charts to assess their positions.
Another feature made available in the trading area is the calculator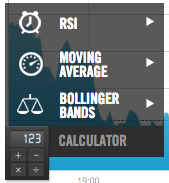 . This appears when the platform displays two trading windows. It allows traders to run three forms of technical analysis over the current price graph, to see what sort of trade the analysis suggest. Traders can select RSI, Moving average or Bollinger band indicators to help them make a call.
Trader choice
EmpireOption offer options on forex, commodities, stocks and indices. Their asset lists are very good. Indices are the most comprehensive list. Coupled with the largest range of trading options of any broker, it means traders opting for EmpireOption will not be short of choice.
They offer seven kinds of option:
Binary Options – The basic binary option. Will the asset rise in value, or fall?
Pairs – How will two assets perform versus each other? Generally pairs are made up of two related stocks (e.g. Apple v Google), but can also be provided against commodities or indices.
Long term – The same as a traditional binary option, but with much longer term expiry times, generally weeks or months.
Short Term – As the name suggests, very short term binary options with very short expiry times. EmpireOption cater for 30 second, 60 second and 120 second expiry times.
One Touch – Will an asset price 'touch' a particular value at least once before the expiry time?
Ladder – Ladders offer a series of price levels which can be traded in both directions. As the levels rise or fall relative to the strike price, the payouts can get larger if a large price movement is required in order for the trade to finish in the money. Particularly useful during volatile markets.
Forex –  This is an option offered by very few brokers, so is a great addition for EmpireOption. It allows traders to trade currency pairs 'per pip', setting stop losses and target prices. It is an innovation that brings traders closer to genuine Forex trading than the simpler form of binary options.
Mobile App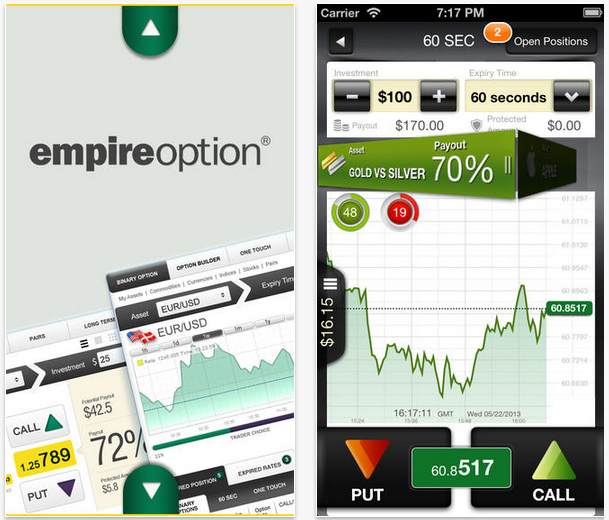 EmpireOption provide a free, high quality, feature rich mobile trading platform ProTrader, compatible with android (2.3.3 and higher) and apple devices. It allows traders to trade the full range of options available on the full site, and the full list of assets too.
The charting has been expanded on the app and full analysis is now available there too. The latest version also sees assets listed alphabetically – indicating the firms commitment to the mobile platform, as they have fixed this small – but frustrating – trader gripe.
The EmpireOption ProTrader app also gives full access to all open and expired positions, and certain account functions, such as deposits.
The actual trading platform is easy to use, and the layout is also excellent, making quick trades very simple. It is a solid addition to the EmpireOption offering.
Payout
Payouts at EmpireOption are very good. The most traded assets see payouts of around 80%. As ever, the payouts will vary based on expiry times and the asset selected. Higher payouts are available with different trading options too. For example, ladder options will offer significant payouts for larger price moves. Forex also works 'per pip', so can generate higher payouts if desired.
Withdrawal and deposit options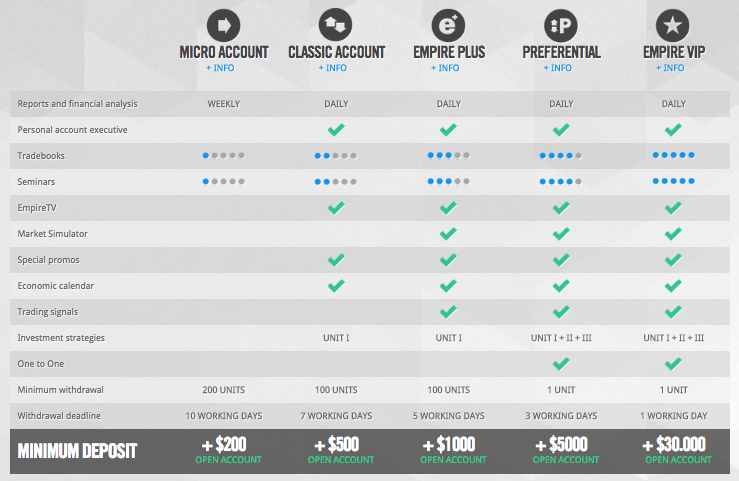 Deposits can be made via credit card (all major cards accepted) as well as wire transfer and online transaction services such as Skrill and Neteller. The minimum deposit is £200 – The initial deposit will dictate which account type a trader moves into. £200 gains entry to the 'Micro' account, while a deposit of £30,000 will mean an 'Empire VIP' account. See the range of accounts and related benefits in the table;
Withdrawals are also handled based on the account type. For example, a Micro account will have a withdrawal deadline of 10 days – an Empire VIP account holder will have their withdrawal processed within 1 day. Empire know withdrawals are often the source of some frustration with traders and their brokers, and offer higher account types better terms. This might be an issue that some smaller scale traders find galling.
The size of the minimum withdrawal is also dictated by the account type, ranging from £200 for Micro accounts, to £1 for Empire VIP accounts. Withdrawals are generally available via the same method as deposits.
Other Features
EmpireOption offer their clients the following features and benefits:
Calculator – Technical analysis tool
Range of Educational material – Includes seminars, books, financial reports and even one to one training
Market Simulator – To perfect technical analysis. Available for Classic account holders and higher.
Social Trading – Empire have revamped iFollow to allow traders to follow the trades of other traders. Empire funds can also be used via the ZuluTrade platform, for the same purpose.
Trading Tools – Double Up and Rollover give traders extra abilities to improve profits and cut losses.