Ayrex are crypto based binary options brand, opening their platform in 2014. Their innovative approach includes a no strings demo account. They promise the platform "will not lag, freeze or hiccup".  From a customer service perspective, they promise quick payouts, honest promotions and no locking in of trader funds. The company is operated by Advanced Binary Technologies Ltd, based in St Kitts.
One of the key benefits of Ayrex is the no deposit demo account. The platform can be used with demo funds, without the need to register or supply any contact details whatsoever. Ayrex are confident in their platform, and let anyone try it, absolutely free. At present, the firm are unregulated, but have applied to CySec. Despite a lack of regulation, the company do boast a strong reputation for customer service, and have not generated any complaints to us thus far.
Key info for Ayrex
Ayrex Demo Account – Yes. Open a demo account without registering.
Minimum Deposit – £50
Minimum trade – £5
Signals service – Yes, free.
Bonus details – 30% Deposit match. Terms apply, but the bonus can be cancelled at any time.
Mobile App – Yes. Specific 'Ayrex for android' and 'Ayrex for iOS' versions.
Trading Platform
The Ayrex trading platform provides a clear and simple area, with all the required data available for traders. The platform does not differ hugely from other brokers, but the layout is well thought out and traders will have few complaints about the usability.
The left side of the platform contains the price chart for the asset selected. The time scale can be changed to suit, and there are also buttons that will 'snap' the trader back to particular points quickly – the current quote for example. It can be zoomed in and out to reflect larger or smaller timeframes. Users can also toggle between display types (area or candlesticks charts for example).
The right hand side of the trading platform contains all the trading buttons. Firstly the type of options is listed at the top of the screen. Ayrex provide 'Short term', 'High/Low' and 'One touch' binary options.
Below the trade types are the asset lists. Grouped by category (stocks, spot FX, Equity indices and commodities). Traders can expand or close each category to see the list of assets within it. The lists are comprehensive, and during our review, almost all open markets were available, which suggests Ayrex have good trading volume across their platform.
Once an assets is chosen, the price graph on the left will update with the new data. The trading ticket will also update. This is just to the left of the asset list. Here, the trader can amend the trade size, and the expiry time. The payout is clearly displayed just above the trading buttons, and the current strike price is shown above the trade size box, and also on the price chart. As a trader 'hovers' over the Call and Put buttons, the price graph will display the direction the price will need to move – just to guard against any errors.
Once confirmed, the Call or Put trade will appear in the 'Open Positions' window, which sits below the trading buttons. Beneath the price graph, traders can see a history of trades which have reached expiry and closed. There are also 'News' and 'Signals' tabs in this area, keeping traders up to date on other trading opportunities.
All in all the trading platform performs very well. It is not too busy, but still shows all the right data. Some additional flexibility in terms of the display might be a bonus, but in general the platform is very good.
Trader Choice
Ayrex offer three types of binary option:
Short term – Binary options with expiry times of 5 minutes or less (down to 30 seconds).
High/Low – The traditional binary option, with expiries every 15 minutes, up to an hour.
One Touch – Ayrex offer Touch and No Touch choices on both a high and lower price level. In times of low volume "No Touch" may become unavailable, and 'One Touch' is generally only available on major forex pairs.

The asset lists at Ayrex are strong. All the major FX pairs are listed, along with a full range of stocks and indices. All the popular commodities are also listed, including Oil, Gold and even Natural Gas and Palladium.
The minimum and maximum trade levels at Ayrex, and the focus on popular assets, gives the impression that they manage risk constantly and ensure they are competitive across the board. For a relatively new broker, it also suggests they will add further assets and option types as they see higher levels of traders and trading volume. So those looking for boundary or ladder options may not have to wait too long before they are added to the Ayrex platform.
Mobile Apps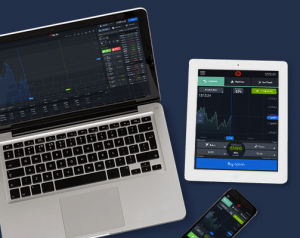 Ayrex released updated versions of both 'Ayrex for Android' and 'Ayrex for iOS' during the spring of 2016. The mobile trading app mirrors the platform of the website, with a full range of options and markets available to trade online.
Feedback for the application has been good and the app is regularly maintained. The android version requires version 4.1 and up. The iOS version requires version 9.0 and up, but works with the iPhone, iPad and iPod touch.
Payouts
Ayrex payouts are competitive, reaching 85% for the most traded assets. Payouts will vary based on the asset, and also expiry time, but Ayrex remain competitive with rivals across the board. One touch payouts are a particular strength, getting up to 80% for both Touch and No Touch trades.
Withdrawal and Deposit Methods
Withdrawals will take roughly 3 days to process. Brokers will always give themselves some time to comply with money laundering laws. An important point to remember is that Ayrex will refund money back to the source that made the original deposit. Traders should be aware of this when making an initial payment.
Where deposits are made via different methods, Ayrex will apportion any withdrawals across the deposit methods used. The minimum withdrawal is 5 GBP. Traders can make one free withdrawal within a calendar month. Each subsequent withdrawal will pay a commission based on the processing fees associated with that payment.
Deposits can be made via Neteller, Skrill, Visa, FastPay and Union. During the deposit process, traders can select their level of bonus to take – ranging from 10% up to 30%. The deposit will have certain terms attached, particularly turnover requirements before being available to withdraw. Traders should spend a little time working out from their intended trade volume and frequency, which bonus level will work best for them – without causing any changes to their trading style. The bonus can be cancelled at any time.
Complaints
This brand do not generate too many complaints. There were concerns raised about payouts rates being different on the demo account, and real account, but the broker corrected the differences and the two platforms are now the same
Withdrawal delays sometimes caused disputes, but these can be avoided if traders ensure they supply verification details as soon as possible, and do not wait until the point at which a withdrawal is required.
Demo
The firm offer one of the best demo account features of them all – no sign up. So traders can have a play on the platform without the need to register any details. In order to get a demo account that saves any trade history, new customers will need to register – but anyone just looking to have a look at the trading platform, can do so without any form of sign up.
Other Features
Contests – Ayrex run regular trader contest, with prize money available. There are 3 rounds a week, with 8 winners and $3600 in prize money.
$30 Bonus – Ayrex offer a no deposit bonus as an alternative to the deposit match, offering traders $30 to trade with.
Ayrex no deposit bonus
$30 No deposit bonus
Trade through the bonus 30 times
Withdraw up to $200
Traders still free to enter Ayrex contests
Traders must register a deposit method (Paying $10) to then withdraw the bonus funds
Although the profit that can be withdrawn is capped at $200, Ayrex effectively give new traders $30 trade with. The offer is still open to those who have already opened an account – as long as they have not made a deposit, or taken any other bonus. To take advantage of the offer, traders need to visit the specific No Deposit Bonus landing page.
During the promotion, the trading area will have some small differences to a 'normal' account. The maximum trade is limited to $30 and the Deposit/Withdraw buttons are not available.