By Michael Hughes
Who Delivers The Best Binary Options Asset Lists?
Who delivers the best binary options asset lists? Who cares. That's not the right question to ask, if you don't know what is – read on to find out!
The Most Comprehensive Asset Lists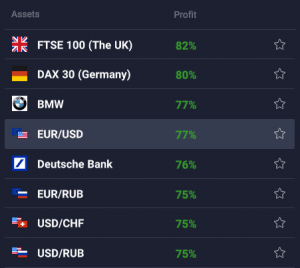 I was recently asked the question, where to find the best asset lists?
This person wanted to know who had the best, most comprehensive, list to trade because that is where they wanted to trade. My answer stunned them – The most comprehensive asset lists are usually found at the shadiest brokers. Any old broker can make a list with as many assets as they want, the questions you and others should be asking is: 
"Which assets are actually tradable, and when can they be traded?"
The truth is, no broker is really big enough to guarantee trading on hundreds of assets all the time. Recognise that giant list for what it is, a marketing tool.
Something to remember. The number of assets, and expiries for each asset, that are available to trade is often limited by the number of traders using the platform, market action and other factors intended to limit risk for the broker.
This is why using a well known and trusted broker is crucial, they need to have enough traders to keep a wide range of assets open for trading and you should trust that assets on the list will be open for trading. All too often traders at smaller brokers will find themselves unable to trade a certain asset because it's not actually supported by the platform or is regularly closed for trading.
Asset List Categories
Assets Categories
Forex – Foreign Exchange pairs, such as GBP/USD or USD/EUR
Commodities – Generally Oil and precious metals
Indices – Large markets, such as the FTSE, DAX or S&P
Stocks – Listed corporations, like Apple, Vodafone and BP
For the most part the average broker will have options in four categories; forex, commodities, indices and stocks with choices limited to the most heavily traded. This means you will usually find about a dozen forex pairs up to two dozen, about the same with stock indices. Commodities are usually limited to oil, gold and silver but can sometimes include corn, soybeans, wheat, cotton and even a few others. Stocks are more difficult to judge, some brokers will advertise a hundred stocks or more but again, it really comes down to how many are actually available.
Some broker list more exotic assets. Bitcoin is the most commonly found but there are others. Some brokers are known for unusual options, or will promote 'special' markets. One variety are binary options on upcoming stock IPO's.
When checking out a brokers asset list you should of course start with their published list but take it a step further. You have to sign up for an account, without depositing of course, and take a look at the trading platform.
Scroll through the different options and look to see which assets are actually listed, taking note if any are listed as 'closed'. The fact that options may be closed for trading are not a deal breaker but you should be aware if an asset you like to trade might not be available at a given time.
Also be sure to check each type of option and expiry as the less popular styles like range, one touch or long term typically have fewer asset choices. Regardless, when it comes to straight up digital binary options you should at least be able to find the most commonly traded in each category, if not move on to a different broker.
Commonly traded assets
The most commonly traded forex pairs tend to be those dominated by the USD, the EUR and the GBP including EUR/USD, USD/GBP, EUR/GBP and a few others including the AUD (Australian Dollar), CHF (Swiss Franc) and JPY (Japanese Yen).
The most commonly traded indices tend to be the major US, EU and Asian including the S&P 500, Dow Jones Industrial Average, NASDAQ Composite, FTSE 100, Xetra DAX, Nikkei and Hong Kong index. Commodities covered above (Oil and precious metals). Stocks can be hit or miss but you can expect to see names like Apple, Google, Facebook and any other megacap stocks popular in the news.
Do You Really Need A Diverse Asset List?
Yes, you really do need a diverse asset list. You need to be able to trade across asset classes, and to differentiate between the top traded assets in each class. So long as you have exposure to each, all you need is a handful of assets. What you don't need is some wild list with hundreds of assets listed.
You will never be able to trade them all for one and if you try you will go crazy trying to keep up with them all.
Taking it further, there are only so many assets that you should be trading anyway. The most commonly traded assets like EUR/USD are active exciting markets with news happening everyday, obscure assets like the Turkish Lira or Jamaican Dollar are boring and lifeless in terms of price action.
So ask the right questions instead:
"Which assets are actually tradable, and when can they be traded?"
---