Anyoption are no longer accepting new binary options accounts. They are moving into other areas of investment, such as forex and cfds.
Return to the broker comparison table to search for an alternative broker.
Anyoption were one of the first brokers to offer binary options, and remain one of the biggest in the sector. Operated by Ouroboros, the firm are registered in Cyprus and regulated by CySec. They have also sought to register with the Financial Conduct Authority, despite the FCA not yet assuming regulatory responsibility in the UK.
Anyoption operate under the mission statement "Anyone can trade" and offer a huge range of option types, as well as relatively low deposit and trade minimums. The trading platform is designed to make trading easy for new investors, while also offering features and markets that will attract professional traders.
Head straight to; Anyoption App or Bonus
Here are some of the other key details regarding the brand;
Demo Account – No
Minimum Deposit – £200
Minimum trade – £25
Signals service – No
Bonus details – 1 Risk Free Trade.
Mobile App – Yes. Android and iOS devices catered for.
Is Anyoption Regulated? – Yes, with CySec (and registered with the FCA)
Trading Platform
Anyoption's platform is quick and easy to use. Its features are focused on delivering flexibility and allowing traders to monitor and maximise their profits.
The layout follows the Anyoption website 'look and feel'. The trading area does not have the usual bright red and green buttons, but more subtle arrows. This makes the trading area feel much less frantic, but just as useable.
The choice of options are listed across the top of the trading platform. The range of assets are then listed from a drop down menu just below the option choice. The area is configured so that traders can have multiple trading windows open at once. Each window shows a short term price graph, plus the expiry time, current option price and the payout value. Amending the trade size will automatically update the "If correct, get" value. There is also a value that will display any potential rebate, if the trader is using an account that pays out that particular reward. This is a 'cash back' style value, that is payable, even if the binary option selected finishes 'out of the money'.
Overall, the trading platform area is clear, and unobtrusive. The configuration is flexible enough to suit most traders.
Trader Choice
Anyoption offer some very different trading options in comparison with other binary options brokers. As well as the more 'standard' offerings, the firm provide some interesting variations;
Binary Options – The traditional High/Low options. Will the asset rise in value, or fall?
Option+ – The platform provides a specific trading area for settling open trades. So options can be sold back to the broker, to bank profits or reduce losses.
Binary 0-100 – The 0-100 area enables traders to buy and sell options and trade them, in the more traditional way. This form of trading can deliver some huge returns (up to 1000%) but the risks grow also.
One Touch – Unique trades hand picked by the broker. The trades generally operate on a weekly expiry but offer high payouts. These trades are generally available outside of core trading hours too.
Specials – Anyoption offer a range of special markets, including markets such as Bitcoin.
Bubbles – This is a new feature recently released. Bubbles allow a trader to select an area (or "bubble") where the think the asset price will be at expiry. The payout for this option will vary based on the size and position of the bubble. Below is a screen shot of the new option: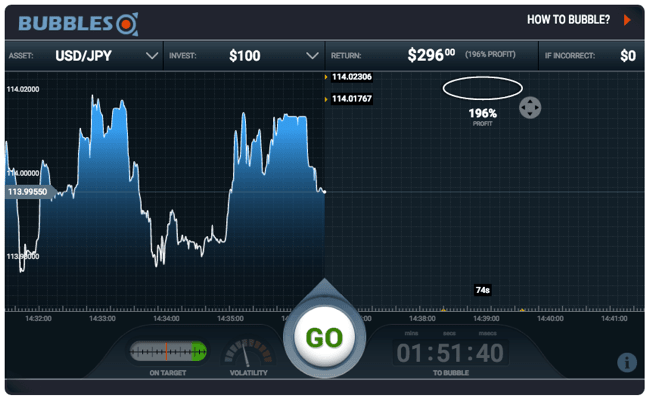 The asset lists at Anyoption are fairly comprehensive, though other firms do offer a longer list of commodities and forex. Newly available assets are listed at the foot of the home page, and this is a useful feature as traders can see at a glance when new items have been opened up.
Mobile App
Anyoption provide a slick mobile app, they label it "Anyoption, Anywhere". It is very well presented but also thoughtfully laid out, making it easy to use. Rather than the more familiar red and green buttons for the call or put choices, Anyoption have a much more appealing colour theme. Buttons are still absolutely clear, but it does make for a much more presentable application for mobile devices. It also matches the setup of the website.
In terms of features, the mobile app delivers here too. Real time trading is of course provided, across all the usual asset types (forex, commodities, indices and stock). Quotes can be retrieved as many times as necessary. There are no ads included in the mobile app, and it is free to use.
In addition to the standard features, Anyoption have also ensured that all account management services can be carried out from the mobile app too. This has not always been possible with other broker trading applications.
Payout
The firm generally offer payouts around 80%, and this will depend on the asset class and expiry time. Once traders move from the more standard offerings however, payouts begin to change. The One Touch options often payout at 380%, and the 0-100 binaries can reach 1000%. These sorts of payouts really highlight the very high risk nature of these trades however.
Withdrawal and deposit options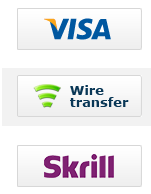 Withdrawal options at Anyoption are fairly limited. Funds can only be taken out of an account via either credit card or wire bank transfer. This has been the source of some problems for a few traders, but Anyoption do make it clear at the outset.
Withdrawal requests (made via the "withdraw" option in the 'My Accounts' page) are processed within three business days from the date of request. During this time traders may cancel any withdrawal request and return the money to their account. This will allow clients to invest without making a new deposit. After three business days, the status of the withdrawal request will change to "processed" and it can no longer be cancelled.
Anyoption note that there may be further delays beyond the three days it takes to process the withdrawal. These are caused by processes at third parties, banks or card issuers.
Deposits can be made via the 'My Account' menu too. Deposits from credit and debit cards are slightly easier than wire transfers as there is one less step in the process. In addition, Skrill can also be used (for deposits only). All deposits are handled via the transaction security protocols, which include encrypted SSL. At £200, the minimum deposit is slightly lower than the industry standard, which generally requires a minimum of £250.
Portfolio Management and Investment Advice
Anyoption recently obtained an extended license from CySec, which also allows them to offer Portfolio Management and investment advice. This level of license will require a higher standard of regulation and is an interesting step from the brand.
Other Features
Anyoption offers its traders the following additional features and benefits:
TakeProfit – Traders can get the promised return on an option before the original expiry time in exchange for a premium.
Roll Forward – Postpone the expiry time of your binary option, to the nearest available expiry time, in exchange for a premium.
Profit Line – Traders can access a chart showing the progress and current profit profile of their options.
'Show Off' area – Successful traders can publish their profits on the Show Off page as well as on Twitter and Facebook.
SMS service – Traders can receive SMS text updates as their positions expire.
Bubbles – The new trade type (explained above) is a real innovation.
Bonus
Anyoption are currently offering 1 risk free trade. This gives new customers the ability to try the platform with a single trade at no financial risk for themselves. The terms and conditions for this bonus are favourable in comparison with some deposit match bonuses at other brokers – these can see funds locked in until turnover requirements are met. The bonus is a clear and simple way for traders to try the platform risk free.