10Trader are no longer trading. Review our broker comparison list to find the best broker for you.
10Trade are a relatively new broker, eager to make a good impression with both new traders and established professionals looking for a well rounded broker service. They are fully regulated with CySec and offer a safe and secure trading experience via their cutting edge trading platform and portfolio rich offering. Via an education centre boasting e-books, webinars and 1-to-1 training for those who want it, the firm aim to deliver on their aim to make trading accessible – even to those with no prior background in finance.
Their platform has been designed to make trading intuitive and includes many innovating features, including ladders, trader's choice, history graphs and buy out features. These additional tools offer some great assistance and variety to what is already a strong binary trading service.
With over 150 assets available to trade, and a wide variety of trade types, 10Trade are growing quickly in the UK binary options market, and their range of choice is among the best in the industry.
Here are some of the other key details regarding 10Trade;
Demo Account – No
Minimum Deposit – £200
Minimum trade – £5
Signals service – No
Bonus details – 3 Risk free trades.
Mobile App – Yes.
Trading Platform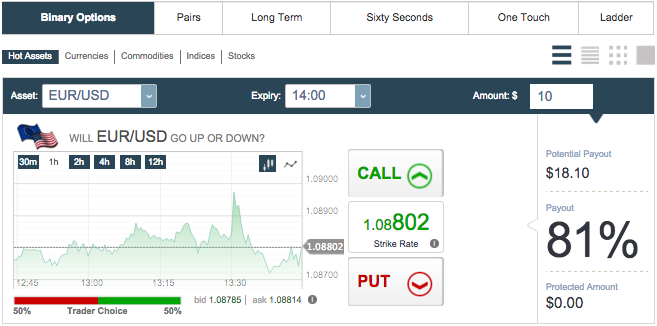 10Trade's five account packages are offered at varying investment levels. The Starter account offers access to the platform's main services in addition to a 10% welcome bonus, 10Trade's exclusive eBook, around the clock customer service and helpful daily market reviews. More advanced accounts offer progressively higher sign up bonuses, as well as attractive perks such as consultation sessions with professional marketing analysts, VIP access to the educational academy's resources and same-day withdrawals of funds. High rolling investors can benefit immensely from 10trade's most elite Presidential package which requires a 50,000 EUR investment and presents customers with an extensive array of services and supports.
Option Types
The 10Trade trading platform is laid out simply and intuitively. Along the top of the screen are the option types;
Binary Option – The familiar High/Low binary options. Will an asset value rise, or fall?
Pairs – An option type not widely available elsewhere is pairs. These are two assets 'paired' together (e.g. Google v Apple) – which will perform best? 10Trade offer a really good spread of pairs for traders to analyse and invest in.
Long term – More and more traders are now using long term binary options as a conventional investment or hedging tool and 10Trade offer this type of option. The expiry dates on offer can be as far as 9 months off and 10Trade excel in this particular area.
60 Seconds – Very short term trading is available at 10Trade and the 'double up' feature can really accelerate profits. As the name suggests, expiry times on these trades are just 60 seconds away. Fast, exciting investing!
One-touch – A popular and potentially quick-fire option type. Will an asset 'touch' a particular value prior to the expiry. One touch options generally have a high touch value, and a low touch value.
Ladders – Not available at many brokers, 10Trade also offer ladders via their platform. Ladders are staggered price levels that allow traders to make substantial returns if an asset value breaks through a number of ladder 'rungs'. Payouts at 10Trade can reach over 1000% with these types of instrument.
Beneath the choice of options are the assets, categorised in to the usual four group – Currencies, Commodities, Indices and Stock. 10Trade also add a 'Hot Asset' list, giving quick access to the list of assets that are trading in large volumes at that time.
The trading windows are large and clear. The asset and expiry time can be selected via drop down menus, beneath which is an up to date price graph. The timeframe shown is configurable via selection buttons just above the graph. There is also a 'Trader choice' bar, so that current sentiment among other traders can be judged.
The actual trading buttons are on the right of the window. The amount and potential payout are displayed, along with the headline percentage payout. To make a trade, the Call and Put buttons are absolutely clear, and pretty central. The trading area is no-nonsense and provides everything a trader needs.
Trader Choice
The asset index at 10Trade is huge. This is a massive plus for this broker. In addition to the large range of option types available, the asset lists are among the deepest on offer. As an example, 10Trade offer over 40 currency pairs – that is almost double some of their rivals. The stock asset list is equally comprehensive.
In addition to the massive range of assets, 10Trade also boast a broad range of trade types. As noted above, there are Pairs, Ladders and Long term options which compliment the more standard types of binary also available. Ladders are a good option for traders who not only see a price moving, but think it will move significantly. They offer a good way to make greater returns on particularly volatile stocks.
Pairs are also a niche that not all brokers will offer. These allow traders to face off two assets against each other – generally stocks. 10Trade include Bitcoin in some of their paired trades, as this is becoming a popular asset to trade. Long term options are useful for traders who like to use the fundamentals to judge stock value, and therefore need time on their side for those fundamentals to move the price. At the same time, those traders prefer the hefty payouts and controlled risk that binaries offer – making long terms the best play.
The trading choice at 10Trade is exceptional, with huge assets lists combined with a great variety of option types giving traders the best of everything.
Mobile App
10Trade offer a mobile trading app for both iOS and android. The app allows traders to trade in the full range of option types and assets. Some trading features are not available via the mobile app however and some account management options are also only available on the full website.
Payout
10Trade generally offer payouts around 83%, and this will depend on the asset class and expiry time. Payouts do change based on the option type, expiry time and asset, and with the big range of trading choices 10Trade offer, the payouts will vary .
Some option types, particularly ladders, can see very big payouts. The higher levels of the ladder will often reach 600% and go beyond 1000% on occasion. So it is worth researching the options and assets that are of interest, to see what the specific payouts are for that combination.
Withdrawal and deposit options
Both deposits and withdrawals are secured at 10Trade via 128-bit SSL encryption. Transactions can be made via credit cards, debit cards, ewallets, bank transfers and wire transfers – deposits can also be made using Skrill/MoneyBookers, CashU, iDeal, Neteller, and BitCoin. The banking pages at 10Trade are customisable, which is a helpful feature. Deposits are generally available immediately after being made, so there is no delay in trading. The minimum deposit is £200 and the minimum trade is £5.
Withdrawals can also be speeded up based on the account package that a trader takes. The 'Platinum' package offers speedier withdrawals for example – but does require a deposit of £10,000.
Other Features
Account Packages – 10Trade offer account packages from a 'Welcome' level, up to 'Presidential'. Increased levels award traders access to certain features, such as personal managers and signals as well as faster withdrawals and increased bonuses.
Education – 10Trade deliver an excellent Education programme. There are introductory courses, then more advanced courses and specialist subjects, such as risk management and financial management. Many brokers offer the beginner material, but 10Trade a have a really comprehensive suite of courses, for traders at every stage.